England and Wales
In March 2014 the Chartered Trading Standards Institute and National Trading Standards Board conducted a workforce survey of trading standards services in England and Wales. Responses were received from 126 services. 
The results show that Trading Standards Services in England and Wales were cut by an average of 40% over the lifetime of the 2010-2015 parliament. Trading Standards staffing levels have also fallen by approximately 45% since 2009. 
Select the image below to see the full report of the Workforce Survey.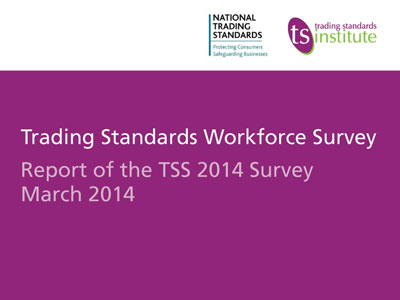 A PDF version of the Workforce Survey is also available to download.  
---
Scotland 
CTSI has been working with Trading Standards Scotland to gather data on Trading Standards budgets in Scotland. The figures show that budgets will have fallen by an average of 39% between 2010-11 and 2015-16. Staff numbers fell by 52% between 2009 and 2012.  
 For more information you can now dowload a copy of the Scottish Workforce Survey. 
---
Our campaign
CTSI is calling for central and local government to come together with the profession to find lasting solutions.  
'It is time for the National Audit Office to look at the system of consumer protection in its entirety including local enforcement when reviewing changes to the consumer landscape,' said CEO Leon Livermore.'The nature of Trading Standards, which is to serve as a watchdog for businesses and consumers, means its value is often overlooked until services are gone. When another horsemeat scandal breaks or a counterfeit toy results in the death of a child – that's when Trading Standards are missed. Trading Standards are an invaluable service and we are reaching a level where further cuts are unsustainable. Enough is enough.'   
Use the links in the left hand navigation bar to view responses to the publication of the survey and the media coverage to date.