News
Concerned officer protects elderly woman from suspected scam
Posted 01/07/15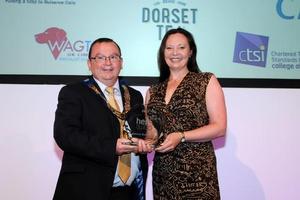 A worker with a Cheshire East housing association has received a Hero Award for her role in foiling a suspected scam.
Joanne Bannaghan, a trust link officer for Peaks and Plains Housing Trust, was visiting an elderly woman in June last year when she discovered that a builder was working at the front of the property. 
The woman, who lived alone, had been cold called by a man who offered to jet wash her driveway for a reasonable price. But he also convinced her that immediate work was needed to replace roof tiles and improve the damp course, saying he would do it for £25,000. 
Concerned by this, Joanne contacted a local builder, who informed her that the work should cost much less.
She took the man's car registration details and within 24 hours he was arrested and interviewed by police and Cheshire East Council's trading standards officers. 
Cheshire East Trading Standards is now prosecuting him for fraud and consumer protection offences and the case is due at court in October.
Joanne received the award for her significant contribution to consumer protection at the Chartered Trading Standards Institute's conference in Bournemouth on Wednesday 1 July.
CTSI chief executive Leon Livermore said: "As the recent CTSI Workforce Survey shows, funding for trading standards services across England and Wales will decline on an average of more than 40% over the lifetime of this parliament. While we work toward a more consistent funding mechanism, heroes like Joanne play a vital role in helping trading standards officers protect vulnerable members of the community."
 Main Conference Sponsor 
Notes for Editors:
For more information please contact press office at
pressoffice@tsi.org.uk
or 01268 582240. Follow us on Twitter @ctsi_uk or #CTSIConf
Photo from left to right: Mark McGinty, CTSI Chairman and Joanne Bannaghan, Hero Award winner.
---