News
Former MP receives international acclaim for IP work
Posted 01/07/15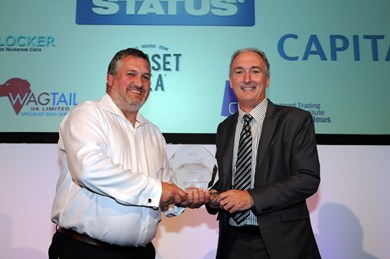 Mike Weatherley received a Hero Award at the Chartered Trading Standards Institute's Conference in Bournemouth on Wednesday 1 July for the significant contribution he made to consumer protection during his role in parliament.
Mr Weatherley was a tireless Intellectual Property Adviser to Prime Minister David Cameron in the last government, going far beyond his remit as a member of parliament to promote the interests of copyright, intellectual property and trading standards. 
Mike Weatherley's position as the Intellectual Property adviser to the PM was the first time such a role had existed. He produced four reports that received international acclaim, and helped secure future funding for the benefit of trading standards both locally and across the country.
He has recently campaigned in support of trading standards' work tackling Intellectual Property Crime and supported the Police Intellectual Property Crime Unit. Mike has successfully lobbied the Home Secretary, Prime Minister and Intellectual Property Office to secure an additional £3m funding, securing the unit's future until 2017.
CTSI chief executive Leon Livermore said: "I am delighted to have presented Mike with a CTSI Hero Award, giving it well deserved national recognition to a man who as an MP, and in his special role, has contributed to both IP and consumer protection." 
Mike Weatherley said: "Trading Standards is a fantastic organisation that performs essential functions that can be unfortunately undervalued. I hope this Government will recognise the great work of Trading Standards and improve its budget to assure the continuance of its remit at the coalface of the battle against counterfeiting and piracy. I am immensely proud to have been given this award from a department whose work I hold in the highest esteem."
The Hero Award is a fantastic opportunity for CTSI to celebrate outstanding contributions by individuals or groups of people to consumer protection in our communities.
Picture from left to right: Leon Livermore, CTSI chief executive and Mike Weatherley. 
Main Conference Sponsor 
For more information please contact press office at pressoffice@tsi.org.uk or 01268 582240. Follow us on Twitter @ctsi_uk or #CTSIConf
---