News
Council action leaves estate agent with bill for false advertising
Posted 14/09/16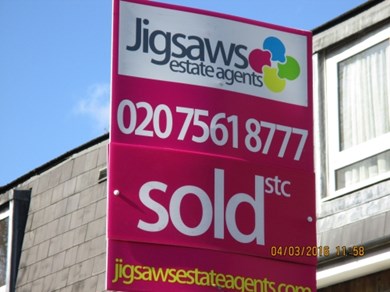 An estate agent has been left with a bill of over £1,600 for false advertising after putting a 'Sold' board on a house in Ferriby Close, N1, more than a year after it was first sold.
Appearing at Highbury Magistrates' Court, Mr Andrew Christadoulides – Director of Jigsaws Estate Agents Ltd. – pleaded guilty to the offence of putting up the board – under the Consumer Protection from Unfair Trading Regulations 2008. 
Both Mr Christadoulides and Jigsaws were jointly-fined £625 and ordered to pay £926 in legal costs as well as a £63 victim surcharge.
Islington Council's executive member for housing and development, Cllr Diarmaid Ward, said: "Putting up false 'Sold' boards is not only unsightly, but intentionally misleads potential buyers and gives the company an unfair advantage over its local competitors. 
"This underhand practice will not be tolerated in our borough and we will take action against those that do it.
"If homeowners or tenants want to report any concerns about the suspected misuse of advertising boards by estate agents, please contact the Citizens Advice consumer helpline on 03454 04 05 06."
For more information contact:
---