News
Farming charity recognised by trading standards experts
Posted 30/06/16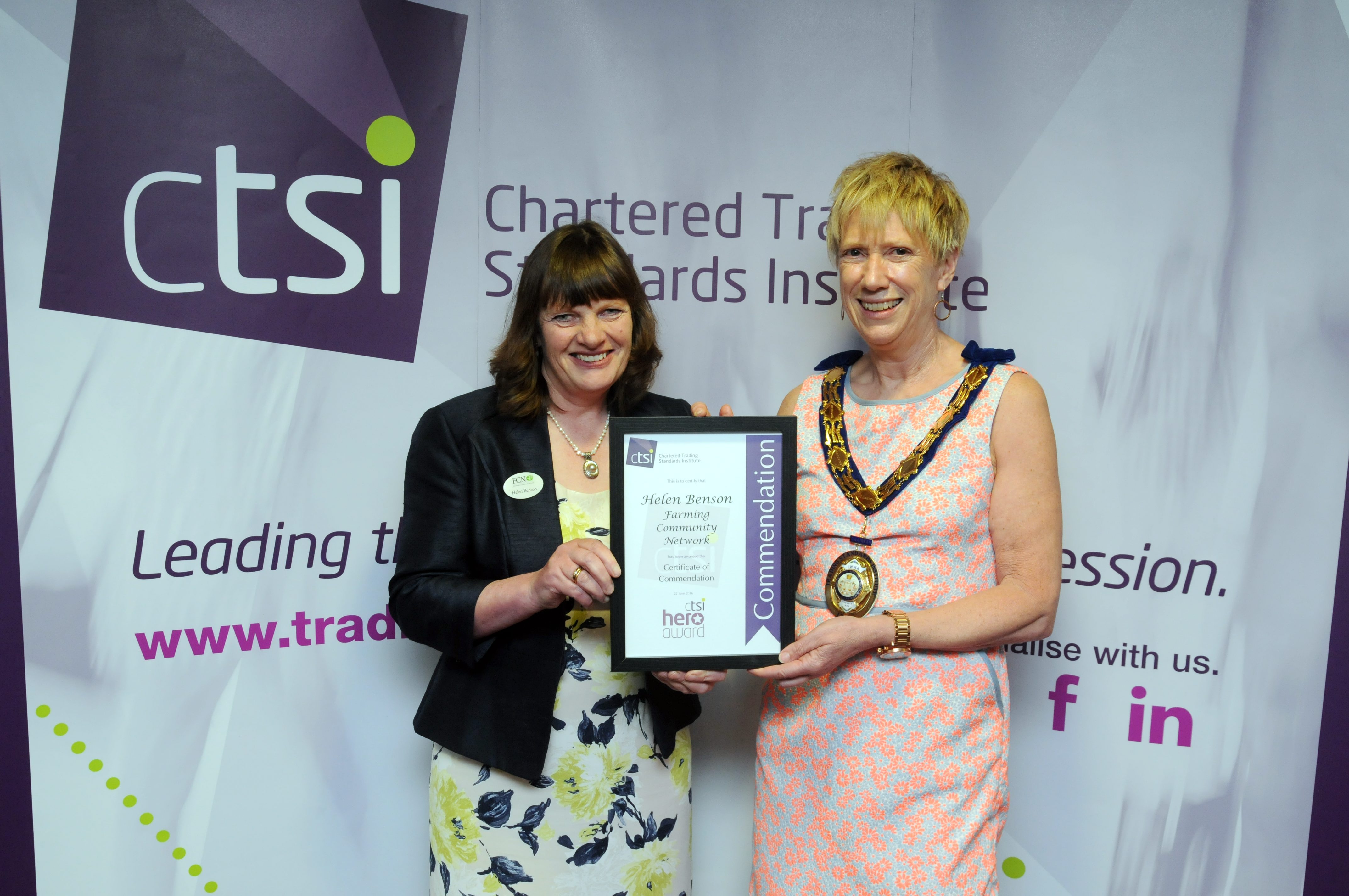 A charity worker who helped a farmer get his life back on track after he lost his home and was facing animal neglect charges, has been praised by trading standards experts.
Helen Benson, from the Yorkshire branch of the Farming Community Network, received a certificate of commendation from the Chartered Trading Standards Institute (CTSI).
Working with North Yorkshire trading standards and the local farming community, Helen co-ordinated a solution for the elderly farmer who might have otherwise faced prosecution and lost his business.
The man's family had worked the land for more than 100 years but, after he lost his home and then his driving licence, he struggled to get to his flock to look after it properly.
Leon Livermore, CTSI chief executive, said: "Trading standards play a crucial role in protecting the welfare of animals across the UK and officers will not hesitate to prosecute, when appropriate.
"But we also recognise that sometimes struggling businesses and individuals just need support and advice, and as a profession we sometimes need to enlist the help of others to provide it.
"It was because of Helen's intervention that the animals were kept safe, ultimately protecting the food chain and consumers, and the man was able to continue with his business."
Hero awards celebrate outstanding contributions to consumer protection by individuals or groups of people and are nominated by the trading standards community.
Helen was nominated by North Yorkshire trading standards and has had a relationship with the team for more than 15 years.
Angela Lacy, divisional officer at North Yorkshire County Council who made the nomination, said:
"Helen has played an invaluable role in the strategy adopted in respect to those individuals who come to the attention of trading standards for the wrong reasons.
"Through her work and never-give-up attitude, Helen has enabled us to work together to provide support to those that would otherwise find themselves before a court.
"She works tirelessly to achieve these positive outcomes and is a credit to her organisation."
Nine Hero awards and three certificates of commendation were presented during this year's CTSI Consumer Affairs and Trading Standards Conference and Exhibition in Telford, last week.
Helen said: "I am incredibly honoured to receive this commendation on behalf of our team in Yorkshire and the local farming community.
"I hope this has made people realise that support is always on hand for farmers and our team will do its upmost to protect consumers."
Notes for Editors:
Farming Community Network (FCN) is a network of some three hundred or so volunteers organised into county groups throughout England and Wales.
Case study – The man was subject of two investigations under the Animal By-Products (Enforcement) (England) Regulations 2013 and the Animal Welfare Act 2006, in 2014 and 2015.
Pictured from left to right: Helen Benson and Christine Heemskerk CTSI chair.
---