News
Christine is given award
Posted 07/07/17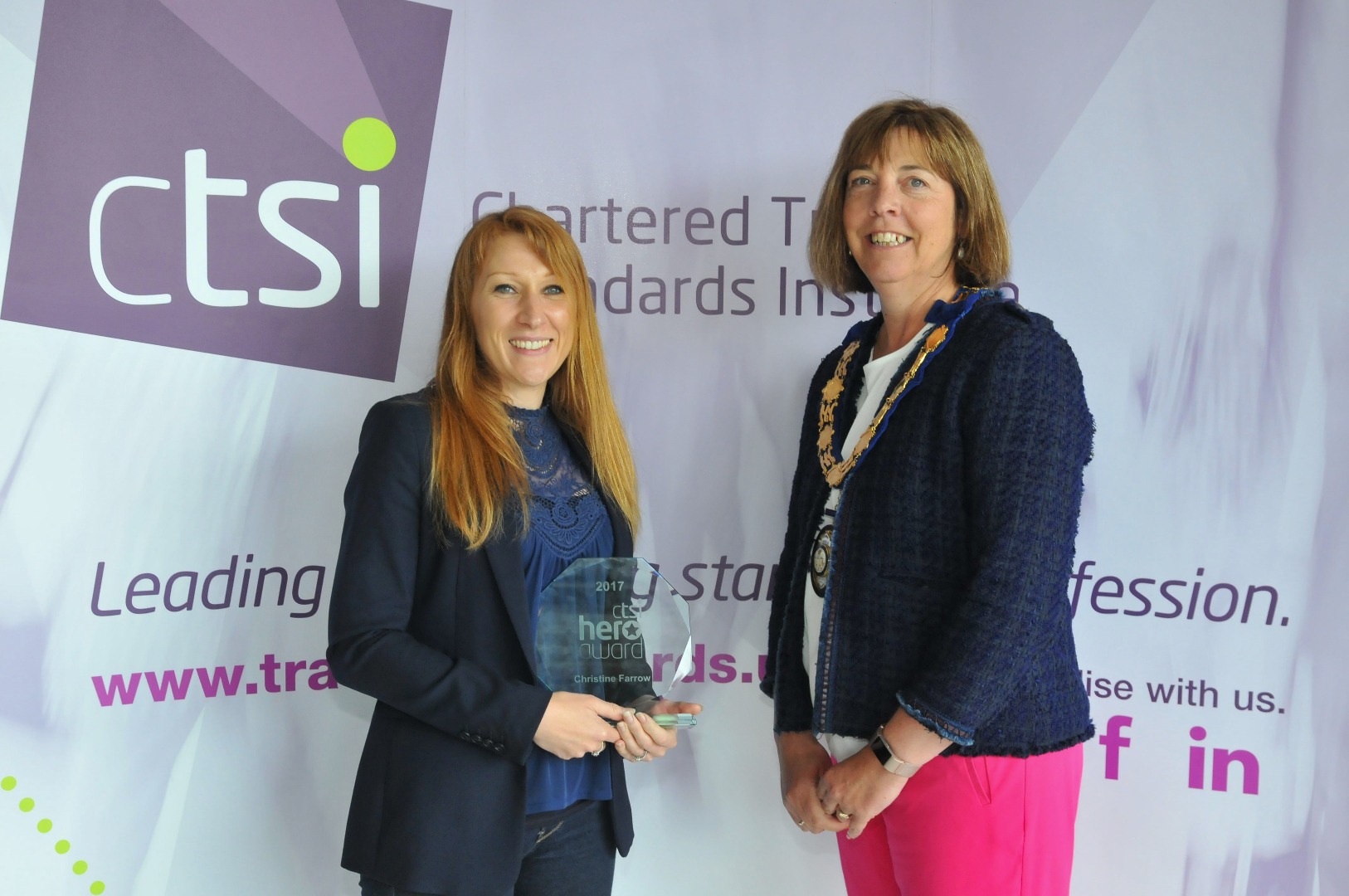 Christine Farrow, a fraud prevention expert behind the national roll-out of a local initiative aimed at preventing doorstep crime, scams and other fraud has been honoured by the trading standards profession.
 The fraud prevention manager with Financial Fraud Action UK was announced as a Hero award winner at the Chartered Trading Standards Institute's (CTSI) annual conference in Harrogate.
Christine was among the first to recognise the potential of the Havering model - a rapid response service that allowed banks in the London Borough of Havering to call local trading standards officers or police out if they feared a customer is being stung.
 Christine was responsible for securing agreement from the Metropolitan Police that it too would treat the incidents as emergencies London wide as well as helping to bring all the major financial institutions on board. 
 In its first three months, the initiative helped prevent over £1 million of fraud and enabled the Metropolitan Police to make 14 arrests. It is now being rolled out throughout the UK.    
 Leon Livermore, CTSI chief executive, said: "All too often we hear of vulnerable people being tricked or pressured into withdrawing cash to pay for overpriced or shoddy work but this project aims to put a stop to it. 
 "Christine's determination to get this initiative moving and her refusal to take no for an answer is an inspiration to many of us in the consumer protection field."
The initiative works by training bank staff to look out for unusual customer behaviour and to tactfully ask questions about the reason for the withdrawal.
Bank staff then summon swift police support by dialling 999 and disclosing an agreed password – as they did when a 95 year-old-man tried to withdraw £3,000 in Twickenham for house repairs.
The pensioner had been driven to the bank by a rogue builder who was arrested as he waited in his nearby car. 
Havering trading standards started working on the project in 2011 but it took until 2016, when the Home Office launched the Joint Fraud Taskforce, to fully recognise the benefits of police, trading standards and financial institutions working together, before it gathered momentum under Christine's leadership.
Christine was nominated by Richard Strawson, the partnerships and doorstep crime project lead at the National Trading Standards, which has led on the roll out for trading standards.
He said: "Hero award winners are nominated by the trading standards community for their outstanding contribution to consumer protection. Christine has done a fantastic job and many people are being protected and prevented from losing money at the hands of fraudsters."
Christine Farrow said: "I am honoured to receive this award and I would like to thank Richard for his nomination and everyone else who has supported the banking protocol and ensured vulnerable people are protected. The initiative has been a real success in areas where it has been rolled out and I hope it will soon be in place across the country."
Photgraph, left Christine Farrow with Sara Barry, CTSI chair
---