News
If you're moving…look for the Badge!
Posted 27/03/17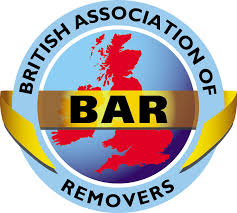 The British Association of Removers (BAR) has promoted professional excellence in the removals industry for more than a century. We are the only Trade Association in the removals sector that helps our Members and, importantly protects their customers by:
Setting high professional standards for the industry by our Membership Criteria, and the BAR CTSI Code of Practice;
Raising standards in the industry, by giving clear professional advice;
Providing a scheme of pre-payment protection, and a free, independent alternative dispute resolution (ADR) service in the unlikely event that something goes wrong;
Lobbying government at local, National and European level to ensure that the industry and the public get a fair deal.
Members who display the BAR CTSI Approved Code logo are offering you peace of mind and reliable customer service. This starts from the very first contact you have with the Member, and continues not just until the completion of the move, but through to your satisfaction.
Hints & Tips for Moving
Plan your move well in advance. If possible contact your chosen BAR Member up to a month prior to the move, even if you don't know the exact date. They will explain what services they offer and help you begin planning for the move.
BAR Members provide free, no obligation, clear and fair quotes. As professional removers they can explain to you exactly what they offer and the areas you need to think about. This way you can plan your time and concentrate on the essentials.
Ask the movers for packing costs. They are trained professionals that know how best to protect your belongings, using the right materials and they'll do it in a fraction of the time it will take you. They'll also be happy to discuss insurance arrangements with you.
When planning your move be aware that some removal days are busier than others, such as Fridays and Bank Holidays. Also remember that if something goes wrong with a sale or purchase your solicitor may not be available on a Saturday.
Always look for a mover that displays the BAR CTSI Approved Code badge. Moving checklist!
4 weeks before
Dispose of any household items you no longer need
Run down the contents of your freezer
2 weeks before
Contact carpet fitters if required
Arrange for your utility services to be disconnected
Cancel all rental agreements
Notify your doctor, dentist, vet, etc.
Notify your bank, credit card and insurance companies
Notify your telephone company and internet service provider
Notify TV licence, passport, driving licence and registration offices
For a comprehensive and interactive moving checklist visit www.bar.co.uk
Why use a BAR Member?
Choosing a BAR Member will ensure your move goes smoothly. You will have the peace of mind that comes from using a reputable, professional and safe remover, and in the unlikely event that something goes wrong, you've got someone to turn to.
BAR Members are professional companies committed to a high standard of service required by the BAR CTSI Code of Practice.
Reassurance. BAR Members must comply with annual inspections during their membership.
Customer prepayments are protected in the event the BAR Member cancels or experiences financial difficulties (subject to the BAR prepayment protection plan terms and conditions).
On-going monitoring of customers' satisfaction. Members must provide evidence of quality of service to BAR and CTSI – www.referenceline.co.uk
A free, independent alternative dispute resolution (ADR) service, provided by TPO - for full details please visit www.bar.co.uk
To find out more:
For more information on the BAR CTSI Consumer Code of Practice and to find your nearest BAR Member visit www.bar.co.uk, or contact the British Association of Removers (BAR).
The British Association of Removers (BAR)
Tangent House, 62 Exchange Road, Watford, Herts, WD18 0TG
Tel: 01923 699 480, Email: info@bar.co.uk
www.bar.co.uk
---