News
Barking and Dagenham and Redbridge councils secure £480,000 court case victory
Posted 24/09/18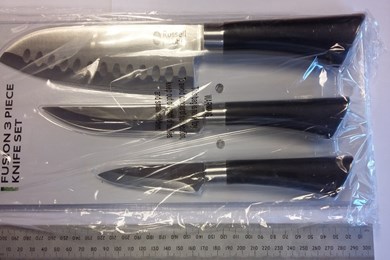 The London Borough of Barking and Dagenham in co-operation with the London Borough of Redbridge have taken a major step in London's fight against knife crime after B&M Retail Ltd was ordered to pay £492,598.53 – one of the biggest ever fines for knife crime in the UK.
A joint investigation between Barking and Dagenham and Redbridge Trading Standards and Legal Departments has led to a successful prosecution at Barkingside Magistrates Court. B&M Retail Ltd pleaded guilty to three offences of underage sales of knives.
B&M Retail LTD pleaded guilty to three offences of underage sales of knives
Two incidents took place in Barking and Dagenham and one in Redbridge. This case was a cross-borough prosecution with Redbridge, led by Barking and Dagenham Council's legal department. The prosecution demonstrates the advantages of cross-borough co-operation to tackle problems which affect the wider community, something which both Barking and Dagenham and Redbridge have championed. It is hoped that continued co-operation will help to reduce crime across the East London Boroughs.
B&M, which has over 500 stores across the country, first broke the rules back in its Goodmayes store on 19 September 2017 when a male aged 15 and a female aged 14, were part of a planned test purchase.
They purchased a set of knives and sweets and were not asked about their age or any request made for proof of age identification. The transaction was observed by an undercover police officer.
B&M failed to learn from their mistakes
B&M failed to learn from its mistakes and a similar incident took place 48 hours later on 21 September 2017 at Vicarage Fields in Barking.
A 16-year-old male went into the shop and purchased a three-piece knife set which was seized and Trading Standards Officers then entered the store. The seller was cautioned and interviewed.
Despite facing a number of warnings and the fact B&M representatives stated they would do everything in their power to ensure this will not happen again, a third incident took place at Vicarage Fields on 18 January 2018.
A 14-year-old male volunteer was deployed to conduct a test purchase of a knife and was witnessed by a plain-clothes police officer, who noticed the till operator was mainly talking to a person behind the volunteer and did not pay the minor attention or ask for identification as he purchased a packet of three knives.
The knives were seized and Trading Standards Officers entered the store shortly afterwards.
Thanks to the joint efforts of Trading Standards Teams at both Councils, a successful case has been brought and significant steps have been taken to cut down on anti-social and criminal behaviour in the borough.
In the past three years alone, Barking and Dagenham Council has obtained Out of Court settlements against two major high street retailers following sales of age-restricted products, including knives and cigarette lighter refill canisters.
In addition, following a sale of a knife to a 15-year-old in Dagenham, Poundstretcher Ltd received a £7,500 fine back in 2016 and was ordered to pay costs of £5,221.50.  
Wake-up call to local businesses
After further engagement with businesses, Trading Standards have achieved significant reductions in sales of knives to young people and hope this latest case will serve as a major wake-up call to any businesses who are not following the correct procedures.
Councillor Margaret Mullane, Cabinet Member for Enforcement and Community Safety said: "This is a major milestone for us as we continue the fight against knife crime in the capital.
"The magnitude of this fine sends out a strong warning that we will not tolerate anyone selling knives to people under the age of 18.
"It is the responsibility of all businesses in the borough, no matter how big they are, to work with and protect the local community.
"Our Trading Standards team will continue to carry out test purchases and we will take the strongest possible action against anyone not following the correct guidelines."
"It is the responsibility of all businesses in the borough, no matter how big they are, to work with and protect the local community.
Councillor Bob Littlewood, Cabinet Member for Crime, Safety and Community Cohesion at Redbridge Council, said: "Given the horrific consequences of knife crime it's essential that traders, large and small, do everything they can to prevent knives and blades getting into the wrong hands.
"This landmark prosecution exposes a shocking abuse of the law and sends a clear message that we will not tolerate rogue traders putting lives at risk.
"I want to praise the commitment of officers at both councils and the young volunteers who are essential to making these operations a success. Tackling crime is one of our priorities and we will continue to take tough action with the police and other boroughs to keep east London safe."   
---