News
Cutting ties – trading standards challenges in a post-Brexit world
Posted 05/09/18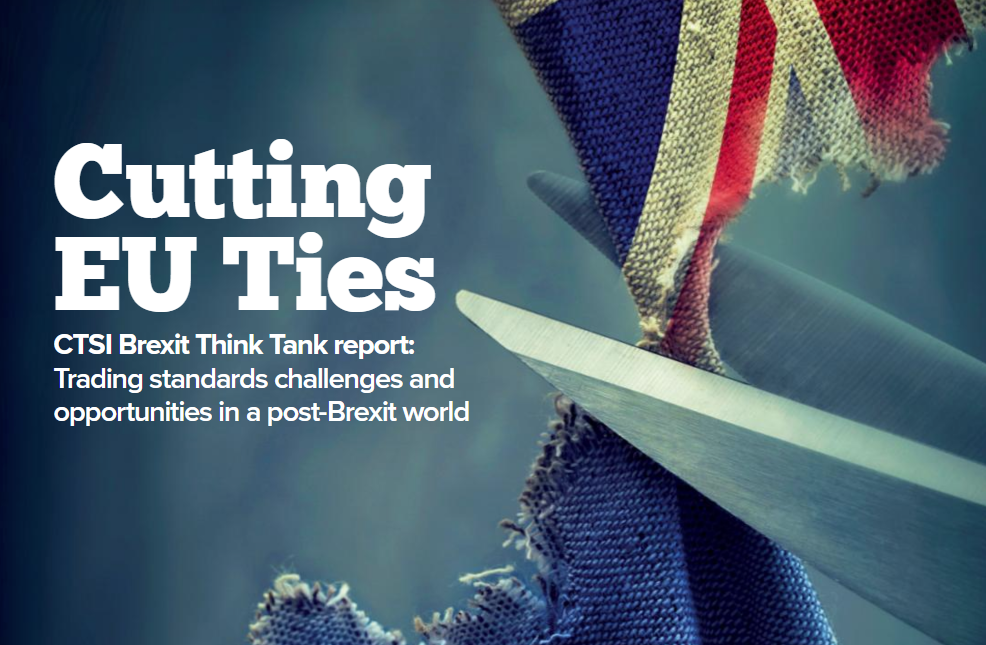 Consumer protection and business confidence will be fundamentally weakened following Britain's exit from the EU if current regulatory, enforcement and advice partnerships are not maintained, according to a report published today by the Chartered Trading Standards Institute (CTSI). 
The greater than 50% cut in trading standards in under a decade throws doubt on the UK's ability to carry out any meaningful checks on businesses after Brexit, the report warns.
Networks that remove dangerous unsafe products from the UK market (RAPEX) - and those that help UK consumers solve cross-border legal disputes, such as the European Consumer Centre (ECC) - are in peril depending on the outcome of forthcoming EU talks, according to CTSI.
Membership to these networks may not be possible after Brexit, and such systems cannot be unilaterally repeated by the UK.
Today's report, titled Trading standards opportunities and threats from the UK withdrawal from the EU, is the culmination of research from the CTSI Brexit Think Tank, a collection of consumer protection and trading standards experts brought together to assess the potential challenges and opportunities of Brexit.
Concerns were also raised over the unsustainable loss of resources for regulation and market surveillance from local authority trading standards services. The CTSI Workforce Survey 2017 clearly demonstrated an average 50% reduction in trading standards resources and officers. Leaving the EU creates great uncertainty over the new regulatory framework for businesses – and it is trading standards officers that will have to unpick the new rules in order to advise and enforce where required.
Sudden divergence from EU standards and regulations will put extreme pressure on UK businesses and cause uncertainty among consumers, which would have a measurable impact on the UK economy.
Brexit creates a 'once in a generation' opportunity to shape the new regulatory environment into one that meets the needs of modern businesses and consumers, the report recognises. 
Head of Policy at CTSI, Craig McClue, said: "We have brought forward concerns from extensive research by leaders across the breadth of trading standards activities. The Government has set an ambition of no less protection for consumers and high standards of regulation when we leave the EU. This report demonstrates our concerns about such ambitions being realised".
"Consumers and businesses cannot afford to lose out as we leave the European Union, and CTSI is ready to assist the Government to make sure we are all protected."
The CTSI Brexit Think Tank Report will launch to MPs and Ministers tonight at a special reception at the House of Commons.
ENDS
Notes for Editors:
For press queries, email CTSI Press Office: pressoffice@tsi.org.uk, or call 01268 582240.
'CTSI Brexit Think Tank: Trading standards opportunities and threats from the UK withdrawal from the EU' will be live at 7 pm, Wednesday 5 September. It can be found here: http://www.journaloftradingstandards.co.uk/brexit/
Advanced embargoed copies of the full report and the 28-page executive summary booklet (the latter of which will be distributed at the launch event) are available upon request
More information on the CTSI Brexit Think Tank can be found here: https://www.tradingstandards.uk/news-policy/brexit
Chartered Trading Standards Institute (CTSI)
The Chartered Trading Standards Institute (CTSI) is a training and membership organisation that has represented the interests of the trading standards profession since 1881, both nationally and internationally. It aims to raise the profile of the profession while working towards a safer, fairer, and better-informed society for consumers and businesses. CTSI's members deliver frontline trading standards services in local authorities. www.tradingstandards.uk.
---