News
Blind cord strangling: campaign urges action by parents to keep little ones safe
Posted 07/10/19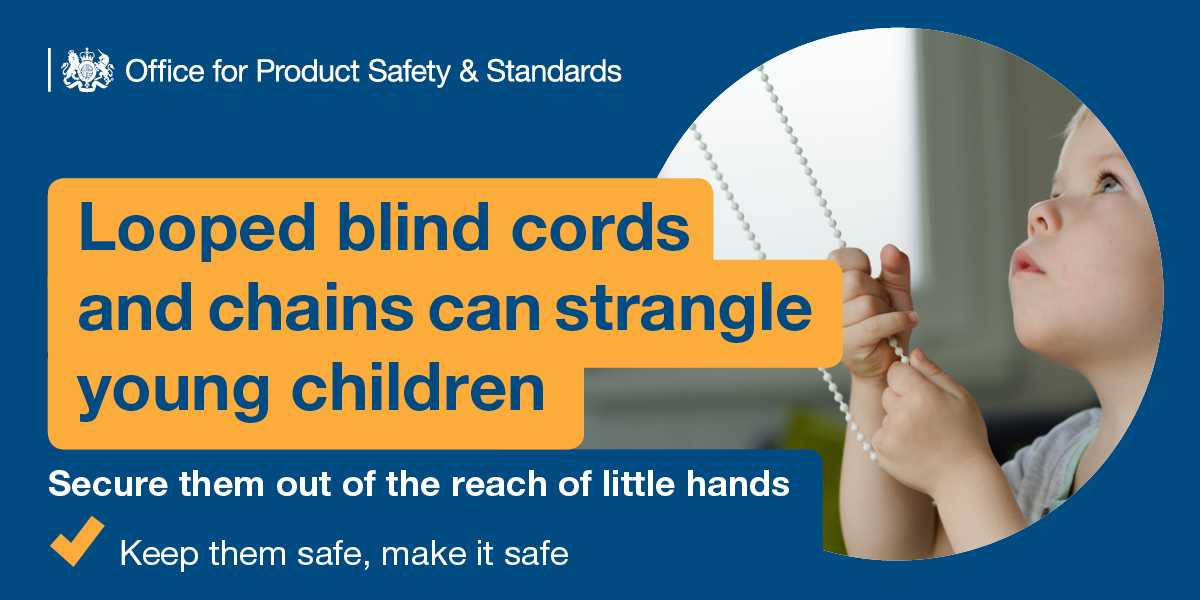 Blind cord strangling: campaign urges action by parents to keep little ones safe  
Parents and other responsible adults in the UK are being urged to fit safety devices to their old window blinds to stop children becoming entangled in dangerous blind cords and chains. 
The move comes amid fears that there are millions of unsafe blinds still in homes across the UK, blinds that had been bought and fitted before standards were changed in 2014. Such old blinds may be neither 'safe by design' nor have been fitted with appropriate child safety devices. 
It's advice that is part of a new campaign launched today by the Government's Office for Product Safety and Standards (OPSS) to raise public awareness of the dangers of unsecured looped blind cords to very young children and to show simple ways to make them safer. 
The campaign challenges parents, childcare providers, children's charities, community groups and employers: Are your blinds safe? 
They are also being encouraged to:
secure cords and chains out of reach with a suitable safety device such as a tidy, tensioner or cleat fixed to an adjacent surface
move furniture and children's beds, cots, highchairs and playpens away from windows 
Joint Lead Officer for Product Safety for the Chartered Trading Standards Institute (CTSI) Mark Gardiner said: "Elimination of the hazards presented by loose blind cords is an essential part making any home child friendly. The consequences of not reducing these hazards can be catastrophic." 
And Robert Chantry-Price, another Joint Lead Officer for Product Safety for CTSI said: "Blinds that were fitted before 2014 are particularly problematic, as a revised safety standard came into force that year required new blinds to be sold with cord or chain tensioners to prevent strangulation. Many accidents could be prevented at very little cost to the home owner. 
The campaign's advice doesn't just apply to parents, but to other carers such as grandparents and friends of the family who may have potentially dangerous blinds in their home." 
Chief Executive at the Chartered Trading Standards Institute, Leon Livermore, added "Despite safety improvements, there continue to be fatal accidents linked to children becoming entangled in window blind cords and chains. 
Anyone with looped blind cords in their home or workplace needs to understand that they are dangerous to young children. Consumers and employers alike must take steps to make sure that their blinds are safe. We can't risk any more accidents." 
Further advice on blind safety devices include:
cords can be wound in a figure of eight around a special hook called a cleat. Cleats should be positioned out of children's reach on an adjacent surface at least 1.5 metres from the floor
tidies and tensioners should be firmly fixed to an adjoining surface so that the cord or chain are permanently held tight. Cords should be fastened up in a figure of eight after every use of the blind, making sure that all the spare cord is secured on the cleat 
Joint Lead Officer for Product Safety for the Chartered Trading Standards Institute (CTSI) Christine Heemskerk underlined why the campaign is important. She said: "These steps are important because they will save lives. Any death or injury is one too many." 
END 
Notes for Editors:
For press queries, email CTSI Press Office: pressoffice@tsi.org.uk, or call 01268 582240.
Royal Society for the Prevention of Accidents' research shows that in the last nine years, on average two deaths have occurred in the UK every year due to young children being strangled on window blind cords or chains. https://www.rospa.com/campaigns-fundraising/current/blind-cord/
If you need to fit a cleat or chain tensioner, further information on this is available on the British Blind and Shutter Association's (BBSA) website www.bbsa.org.uk.  The site shows you how to fit these safety devices and lists the address of local BBSA members who should be able to supply or fit them.
 Chartered Trading Standards Institute (CTSI)
The Chartered Trading Standards Institute (CTSI) is a training and membership organisation that has represented the interests of the trading standards profession since 1881, both nationally and internationally. It aims to raise the profile of the profession while working towards a safer, fairer, and better-informed society for consumers and businesses. CTSI's members deliver frontline trading standards services in local authorities. www.tradingstandards.uk. 
The Office for Product Safety and Standards
The Office for Product Safety and Standards was created in January 2018 by the Department for Business, Energy and Industrial Strategy, to enhance protections for consumers and the environment and drive increased productivity, growth and business confidence.
Office for Product Safety and Standards is part of the Department for Business, Energy & Industrial Strategy.
---