News
Hero Awards: Neighbour's valour saves vulnerable couple from rogue trader con
Posted 26/06/19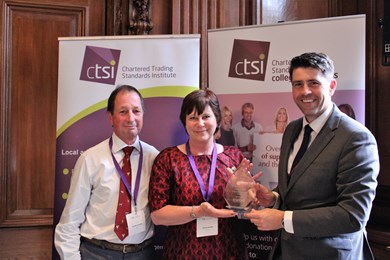 Brave interventions to prevent a rogue trader from scamming your elderly neighbour are hard to come by but eagle-eyed Cornwall resident, Sharon Conradie, did exactly that to earn herself the Chartered Trading Standards Institute (CTSI) Hero Award following her bold scam interruption.
In August 2018, Sharon noticed a suspicious van parked across her neighbour's property, and a workman at their home gesturing towards trees and bushes. The rogue trader, later identified as John Paul Newbury, was employing pressure sales techniques, demanding to undertake unnecessary work there and then. 
The neighbours, a couple in their mid-80s, asked for time to consider the trader's offer, which is when Sharon intervened, asking the trader to leave. When Newbury refused and returned to the neighbour's home, Sharon contacted the police. Newbury returned to Sharon and became aggressive, demanding she hang up the phone and come outside to talk to him directly.
Sharon's intervention, at personal risk, led to Newbury's arrest for this and former incidents. Sharon's evidence ensured Newbury was convicted of six offences including use of aggressive practices.
The CTSI Hero Awards celebrate those who make outstanding contributions towards consumer protection in our communities. Sharon received the CTSI Brian Smith Hero Award at a special ceremony at One Great George Street, London, on Tuesday.
Chief Executive at CTSI, Leon Livermore, said: "Sharon's vigilance and quick thinking saved her neighbours not only from financial loss but the emotional trauma of falling victim to a rogue trader. We should all be lucky enough to have a neighbour like Sharon."
Cornwall Councillor Rob Nolan, Portfolio Holder for Environment and Public Protection, said: "I want to add my congratulations and thanks to Sharon for her actions. It's all too easy to look the other way and not get involved. Sharon's prompt actions enabled the Police and trading standards to stop a crime and convict a rogue trader. Well done Sharon, your award is thoroughly deserved."
Sharon was presented with her award by her local MP, Scott Mann, and Steve Smith, Director of trueCall, who sponsored this year's CTSI Brian Smith Hero Award category. The CTSI Brian Smith Hero Award is named in honour of the late Brian Smith, a CTSI Lead Officer who sadly passed away in 2017.
End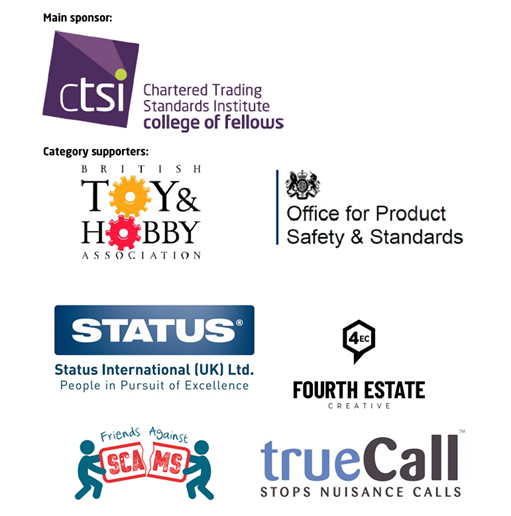 Editors notes
For press queries, email CTSI Press Office: pressoffice@tsi.org.uk, or call 01268 582240. 
The Chartered Trading Standards Institute (CTSI) is a training and membership organisation that has represented the interests of the trading standards profession since 1881, both nationally and internationally. It aims to raise the profile of the profession while working towards a safer, fairer, and better-informed society for consumers and businesses. CTSI's members deliver frontline trading standards services in local authorities. www.tradingstandards.uk.
---