News
New government-backed travel industry guide launched
Posted 19/02/20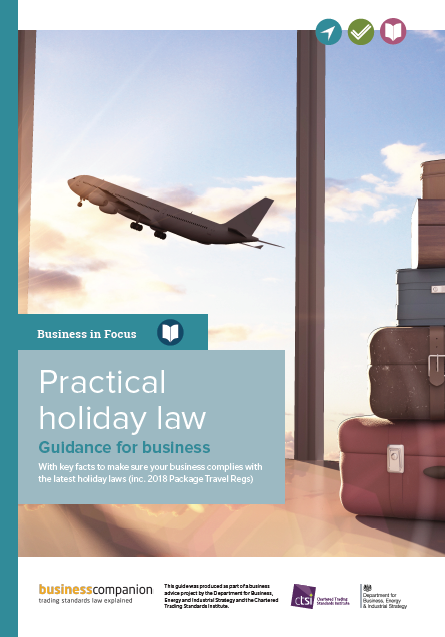 A new government advice booklet for the travel industry has been launched by the Chartered Trading Standards Institute (CTSI). It highlights the current holiday laws and offers practical guidance on the new Package Travel and Linked Travel Arrangements Regulations 2018 which created a new regulatory framework for package holidays and linked travel arrangements including combinations of transport, accommodation, car hire and other tourist services. The new guidance is a welcome step for the industry and consumers.
The majority of complaints about the holiday industry in 2018 centred around disagreements between businesses and consumers over the interpretation of the new regulations, according to Citizens Advice (CitA) figures. 
In collaboration, the Chartered Trading Standards Institute (CTSI) and the Department, for Business, Energy and Industrial Strategy (BEIS) have produced a specialist guide on the relevant holiday laws, including the new regulations. Practical Holiday Law, written in clear, accessible language, contains a thorough introduction to UK holiday law written by industry and trading standards experts. 
CTSI Lead Officer for Holiday and Travel Law, Bruce Treloar, said: "This new publication is a clear guide for travel businesses on how to navigate the complexity of current holiday law and the new regulations. The guide is much-needed as we found that there was confusion for both business and consumers on what the new rules meant. 
"The guidance clarifies the responsibilities of businesses to holidaymakers, and I think it's an invaluable tool for the travel industry to read, absorb and apply."
Copies of the new guide may be downloaded at https://www.businesscompanion.info/focus/practical-holiday-law
ENDS
Notes for Editors:
CTSI Press Office: pressoffice@tsi.org.uk, 01268 582240
Chartered Trading Standards Institute (CTSI)
CTSI is a training and membership organisation that has represented the interests of the Trading Standards profession since 1881 nationally and internationally. We aim to raise the profile of the profession while working towards fairer, better informed and safer consumer and business communities.
CTSI's members are engaged in delivering frontline trading standards services in local authorities and in businesses. www.tradingstandards.uk
---