News
Former police officer wins CTSI Hero Award for scheme safeguarding elderly and vulnerable
Posted 29/11/22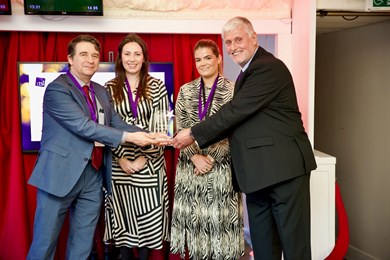 Former Police Community Safety Officer Reg Burrell, from Stamford in Lincolnshire, has been recognised in the Chartered Trading Standards Institute's (CTSI) annual Hero Awards ceremony. 
The awards, hosted by CTSI at the House of Lords on the evening of Wednesday 23 November, recognised significant contributions to consumer protection across the UK. Reg won The Brian Smith Award, which is given in recognition of the bravery of scam victims and the Trading Standards Officers who work on such difficult cases.
Reg was nominated for working tirelessly to develop an initiative called REPEAT - Reinforcing Elderly Persons Education at All Times – to safeguard elderly and vulnerable people who live in their own homes against scams, doorstep criminals, and distraction burglary.  
The main aim of Operation REPEAT is to continually reinforce key messages to vulnerable clients on a daily or weekly basis by health and social care staff.  Using the existing community workforce to deliver this advice is designed to increase awareness of these crimes within the community and to better target prevention.
Reg rolled out a training programme to health care workers in Wrexham in Wales, Lincolnshire, Northamptonshire, Leicestershire and other East Midlands areas, using local hard-hitting examples (supported by Trading Standards) to illustrate this safeguarding need. Throughout the pandemic, Reg kept in regular contact with local health care services, telling them the latest scams/COVID-19 frauds. 
Reg, Director of Crime Reduction Enterprise Ltd, said: "After seeing the impact scams had on victims during my policing career, it was a natural path to take to try to use my prevention skills and knowledge to help raise awareness to these crimes. 
"Setting up Operation REPEAT [Reinforce Elderly Persons Education At all Times] in 2012 has allowed me to work with many organisations who in turn have become our eyes, ears and means of getting messages out directly to those at risk. Our older, vulnerable residents are targeted by despicable criminals in ever-evolving scams that we counter through educating those that look after and interact with such members of our communities.
"To receive the Brian Smith CTSI Hero Award is indeed an honour and I feel really humbled in being recognised for this work and sincerely thank those who have backed Op REPEAT over the past 10 years. Most importantly, this award is for the hundreds of people we have trained that are using our information to help keep people safe from crime."
CTSI Chief Executive John Herriman said: "REPEAT goes to the heart of consumer protection. It is an initiative aimed at enabling elderly and vulnerable people to feel more confident in asserting their own protection against criminals at the door and on the phone.  
"There has been a greater shift towards scams and fraud in recent years, which is why an ever-evolving initiative such as this works so well to serve our older and more vulnerable community. Falling victim to a scam can devastate someone's life, and it happens to even the sharpest of us.
"The CTSI Hero Awards are a fantastic opportunity to celebrate remarkable individuals or groups of people who make outstanding contributions towards safeguarding vulnerable consumers in our communities. Every year, we are inspired by the stories of nominees throughout the country whose bravery, altruism and hard work often goes unnoticed. These awards honour those remarkable people who have gone the extra mile for consumers."
Chartered Trading Standards Institute (CTSI) 
The Chartered Trading Standards Institute (CTSI) is a national not for profit established in 1881 which supports the UK's trading standards profession, and works to protect consumers and safeguard honest businesses.  CTSI's members are engaged in delivering frontline trading standards services at local authorities and in businesses. www.tradingstandards.uk
Please contact CTSI Press Office: pressoffice@tsi.org.uk for any queries. 
Picture: Steve Smith from trueCall and Reg Burrell CTSI Hero Award winner.
Brian Smith was a Trading Standards Officer at Angus Council in Scotland. He was also CTSI Lead Officer for Crime and Disorder and was one of the first Trading Standards professionals to define who is vulnerable in society. The Brian Smith Award is given to recognise the bravery of scam victims and the officers that work on these difficult cases. It is given to those who look out for vulnerable neighbours, volunteer within their communities, and those who may be a victim but refuse to be defined by it. 
---