News
Salford Trading Standards Officer wins a Hero Award for her work protecting the public
Posted 29/11/22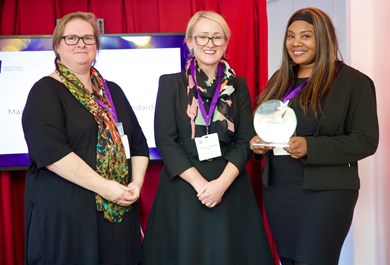 Marsha Bell, a Trading Standards Officer working at Salford City Council, has received an award from the Chartered Trading Standards Institute (CTSI) for her work in protecting the public from the hazards of counterfeit goods.
She won the Product Safety Award at Chartered Trading Standards Institute's (CTSI) annual Hero Awards ceremony for her work leading a multi-agency working group which has inspected 13 premises, resulting in the seizure of over 120,000 counterfeit and unsafe items, worth in excess of £1 million. 
The awards, hosted by CTSI at the House of Lords on the evening of Wednesday 23 November, recognised significant contributions to consumer protection across the UK.
Between April 2020 and March 2021 alone, two visits by the working group resulted in a seizure of over 28,000 counterfeit mobile phone accessories. A visit to a vape shop uncovered over 48,500 counterfeit e-liquid products and 94 counterfeit hand sanitisers. 
And in March 2022 Marsha's efforts secured a conviction against a company operating as an importer, producer, distributor and a fulfilment house. The fine, costs and victim surcharge amounted to £56,090.  Forfeiture orders were made on all goods seized, estimated to be worth around £270,000. The company was producing and distributing counterfeit products including e-liquids and electrical products.  
Marsha said: "I am really honoured for the recognition by those who have nominated me, and in turn the recognition of the wider team at Salford Trading Standards, for this award.
"Protecting consumers from harm is one of the fundamental areas of Trading Standards, which is why I feel passionate about ensuring that products placed on the market are safe, whilst appropriately and proportionately holding to account those who put profit before safety and ensuring there is a fair trading environment for businesses and consumers.  
"I look forward to continuing to work with my colleagues at Salford Trading Standards, Office for Product Safety and Standards (OPSS), CTSI and other partners to promote product safety."
Giles Speid, Trading Standards Team Manager (North West Team) at Westminster City, nominated Marsha for the award. He said: "It is impossible to ignore the incredible work Marsha has been doing with regard to protecting public safety with the record number of seizures she has removed from the marketplace. She is a leading light in this field and has prevented untold consumer harm with her actions."
CTSI Chief Executive, John Herriman, said: "Marsha's diligent and meticulous work has proved vital to Trading Standards investigations, achieving many notable results.  Marsha has made a huge positive impact on tackling the sale and supply of counterfeit goods in Salford.
"I know that Trading Standards professionals tend to avoid the limelight, but sometimes it is necessary to recognise genuinely exceptional work publicly. Marsha is a model Trading Standards professional, and this award is a testament to her crucial contribution to protecting the public.
"Her work in setting up a multi-agency working group focusing on producers, importers and distributors shows what can be achieved by working collaboratively with partners. The group has undertaken numerous complex investigations, leading to a number of prosecutions and convictions, and we are proud to recognise Marsha's achievements.
"The CTSI Hero Awards are a fantastic opportunity to celebrate remarkable individuals or groups of people who make outstanding contributions towards safeguarding vulnerable consumers in our communities. Every year, we are inspired by the stories of nominees throughout the country whose bravery, altruism and hard work often goes unnoticed. These awards honour those remarkable people who have gone the extra mile for consumers."
Chartered Trading Standards Institute (CTSI) 
The Chartered Trading Standards Institute (CTSI) is a national not for profit established in 1881 which supports the UK's trading standards profession and works to protect consumers and safeguard honest businesses.  CTSI's members are engaged in delivering frontline trading standards services at local authorities and in businesses. www.tradingstandards.uk
Please contact CTSI Press Office: pressoffice@tsi.org.uk for any queries. 
Pictured from left to right: Debra Macleod from the Office for Product Safety and Standards, Rebecca Long Bailey MP and Marsha Bell CTSI Hero Winner.
Friends Against Scams is a National Trading Standards (NTS) Scams Team initiative, which aims to protect and prevent people from becoming victims of scams.
---