Vision and strategy
Our vision
Consumer confidence sits at the heart of a healthy and prosperous economy. This is achieved through the work of a complex array of organisations across many sectors working together to protect consumers.

CTSI sits at the centre and we are uniquely placed to bring different groups together in ways no one else can. Our members who work with key stakeholders will help deliver our overarching vision that the UK prospers economically through fair and safe trade. 

CTSI seeks to represent everyone working in, or aligned to, the Trading Standards profession. We want to build an organisation and lead a profession which is inclusive and representative of the communities we serve. Recognised for our professionalism and commitment CTSI continues to have a high level of trust with the public and will ensure we can fulfil our mission to support and reinforce the protection of consumers and to achieve a level playing field for business.


Key messages 
Trading Standards professionals sit at the heart of a network that supports business compliance with advice and enforcement, and protects the public 24 hours a day, 7 days a week, 365 days a year. CTSI is critical in the delivery of education to business alongside its support to members.
Our value to society is clear but it often goes unnoticed because it is a mark of its own success. When consumer protection is working at its best, many of the problems which we encounter are less likely to materialise. The profession, across various sectors, protects consumers through every stage of their lives, without most even being aware of it.
Trading Standards supports business enterprise by creating a level playing field for competition and is essential to the success of the UK economy. CTSI members work within businesses, driving compliance. Compliant businesses support consumer confidence – what is good for consumers is ultimately good for business. Our members are uniquely placed to understand the challenges businesses face – by providing advice, guidance and taking actions where necessary against non-compliant businesses – they are powerful allies to legitimate businesses.
The profession also has an important role to play as a contingency service within local government. Trading Standards has been called on in times of crisis – for example, foot and mouth, Avian Flu and the COVID-19 pandemic. Our versatility as a profession has proved to be a huge asset to the country.
CTSI continues to deliver the leading education, career development and professional qualifications for trading standards, consumer protection and regulatory activities.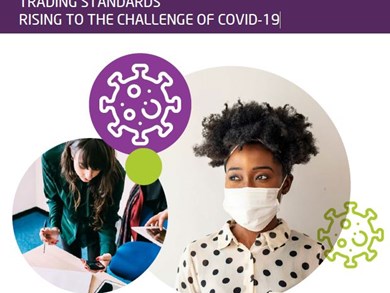 We are delighted to share with you an infographic highlighting some of the key work undertaken by trading standards services across the UK since the COVID-19 lockdowns began in March 2020.
Trading standards has a responsibility to keep safe vulnerable adults from financial and other forms of abuse.