Publications and advertising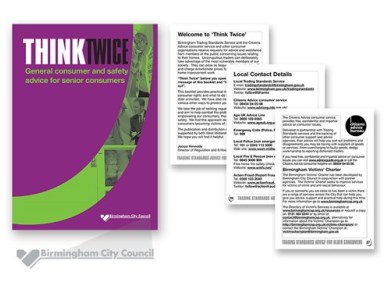 Leaflets
CTSI's customised booklets and leaflets contain valuable safety advice for senior consumers and are branded to your own organisation or authority. 
Customised Think Twice booklet
These booklets provide consumer and safety advice to senior consumers.
Topics include doorstep sellers and bogus callers, misleading prices, junk mail, mobility goods and fire safety.

This customised booklet displays your own logo and contact details. 
No cold calling supersigns
CTSI is committed to tackling doorstep crime. We want to give you the chance to say 'no' to cold calling traders on your doorstep.
Customised supersigns which carry your logo are available to order. Price is on application, minimum order of a 1000 signs.
These signs should be placed in a prominent position on your property, where traders will see it.
For further information on customised signs please contact productinfo@tsi.org.uk
Prices are subject to postage and packaging.
On the road booklet - A guide to buying your first car
This 32-page guide has been designed to help young drivers be safer on our roads.
This booklet encourages drivers to make better decisions about buying and maintaining their first car.
This customised booklet is a fantastic asset to your local road safety campaigns and can display your own logo and contact details. 
Related resources