Events and sponsorship
CTSI Conference
CTSI Conference 20-22 June 2023 - The Eastside Rooms, Birmingham.
CTSI's Conference is the leading Consumer Affairs event in the regulatory calendar.  It is the key opportunity for trading standards and regulatory practitioners to come together with a broad range of partners and stakeholders to discuss and learn about issues that impact on consumers and businesses in the UK and wider markets.
This high profile event is the one opportunity each year to connect with the largest gathering of trading standards professionals from across the UK. Providing the perfect setting for networking and knowledge sharing and a key opportunity to promote current activities and showcase your brand to this hard to reach audience.
The three-day event will be held at the Eastside Rooms, Birmingham. Birmingham's newest conference venue combines innovation with Birmingham's industrial heritage.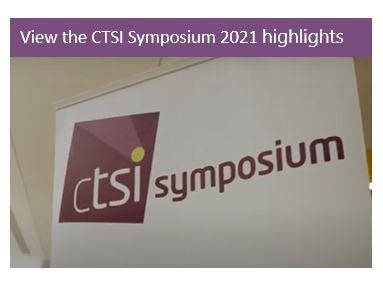 Exhibition
As an exhibitor you will gain exposure to decision makers and key influencers from both public, private and third sector where you can showcase your products, services and ideas. An excellent way to increase brand awareness and to share solutions to workplace challenges and smarter working. 
View a list of exhibitors already booked for 2023 
Seminar sessions
The CTSI Conference will host 40 speaking sessions providing a great platform to share best practice or deliver your message to up to 100 delegates.  CPPD hours available to session attendees. Book your 30/45 minute sessions by emailing: conferencesales@tsi.org.uk.
Sponsorship
CTSI and trading standards have never enjoyed a higher profile with the public, politicians, the media, and business. By becoming a sponsor of this high profile event, you will be showing your support for an organisation and professional community that really cares about honest enterprise, good business, consumer protection and empowerment. Take a look at our sponsorship brochure for some of the opportunities available.
We all have a stake in economic recovery, new prosperity, and the health and well-being of our country and society, and, as a sponsor,  you will be seen as helping to champion these vital causes.
A range of opportunities are available to suit all budgets.  Contact the business development team to discuss the perfect opportunity to associate your brand with CTSI and support the profession at this flagship event.  Email: conferencesales@tsi.org.uk or tel: 01268 886697
Advertising opportunities
A range of premium and non-premium positions are available in our ever popular Conference brochure. Distributed to all attendees, this well referenced publication is the essential delegate guide.
Add extra visibility to your exhibition stand or seminar session, or simply showcase your brand to this key influential audience.
Space is limited, so early booking is essential. 
For further information or to discuss how you can be involved contact the business development team on tel: 01268 886697 or email: conferencesales@tsi.org.uk
Related resources