Publications and advertising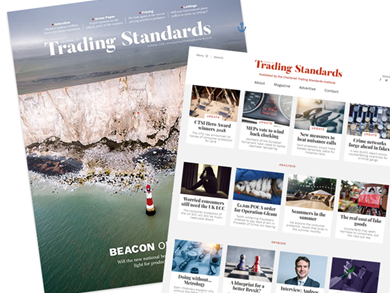 Journal of Trading Standards
The Journal of Trading Standards is the communication brand for CTSI, bringing together our heavy-weight flagship journal and content driven news website.
Focusing on promoting 'confidence in compliance' for every business and organisation, the magazine delivers influential academic research, news analysis, topical features and regular columns from experts in consumer affairs and a range of opinions and perspectives about this ever-evolving profession. 
Printed bi-annually and distributed to all CTSI members and key influencers in central and local government, it reflects the influential role of Trading Standards in the world of consumer affairs, business and government.
The Journal of Trading Standards website is designed to deliver key content directly to readers, wherever they are. With a responsive layout that works seamlessly across desktop, tablet and mobile devices, and timely, clear and accessible information, the site provides regular updates, analysis and viewpoints in text and video format across key categories.
The Journal of Trading Standards offers a number of exciting opportunities for those looking to engage with the trading standards profession or benefit from alignment to our prestigious brand. For more information on sponsorship and advertising take a look at our media pack.
Related resources