Campaigns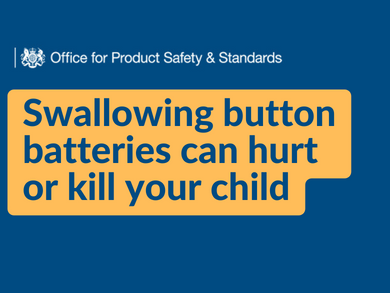 Ingestion campaign
The Chartered Trading Standards Institute (CTSI) is working with the Office for Product Safety and Standards (OPPS) on a campaign to raise public awareness of the dangers surrounding ingestion. 
The campaign aims to inform public of the danger of swallowing magnets, button batteries, small and loose toys and imitation food, and where these products and risks associated can be found, as well as advise on how to reduce the risk of these items being swallowed. It is significant for consumers to be aware of the possible symptoms of swallowing magnets and button batteries and the importance of seeking immediate medical treatment.
As part of the campaign, CTSI has produced and utilised a number of digital resources which can be shared through social media channels. These resources are detailed below. We would appreciate as much participation as possible from consumer protection partners and key stakeholder organisations in sharing these messages. Your involvement in this campaign will ensure members of the public are educated on the dangers that come with ingestion of button batteries and magnets, and help save children's lives.
Key messages graphics
The Office for Products Safety and Standards and CTSI have produced several social media graphics and posters highlighting the key messages for the campaign, and will be shared via CTSI social media channels, and are available to download on the page.
A5 advice leaflet
The Office has created a two-page downloadable safety leaflet summarising the key messages for this campaign. Please download from resources on this page to share and help raise awareness.
Relevant organisations
@ctsi_uk
@OfficeforSandS