Campaigns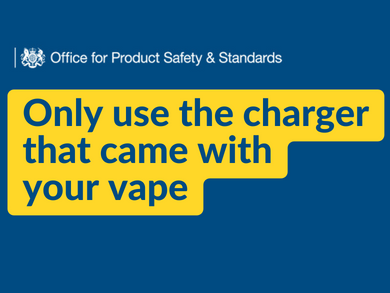 Vaping battery safety
Take charge of battery safety, vapers urged by Office for Product Safety and Standards 
The Office for Product Safety and Standards is urging vapers to follow simple safety rules to protect themselves or risk serious injury. When it comes to safely using your vape: 
only use the charger that came with your vape
protect your vape from extreme temperatures (don't leave your vape or spare batteries in direct sunlight or in your car on a freezing cold night)
regularly inspect the batteries
stop using and replace your batteries if they get damaged, wet or leak
unplug the charger once it's fully charged
store spare batteries in a plastic case
keep spare batteries away from other metal objects like coins or keys in a pocket or bag to avoid accidental contact as this can cause a short circuit
As part of the campaign, CTSI will produce and utilise a number of digital resources which will be shared through our social media channels. These resources are detailed below. The Office for Product Safety and Standards would appreciate as much interaction from consumer protection partners and key stakeholder organisations in sharing these messages. Your involvement in this campaign will help ensure members of the public are educated on the dangers that come with charging and storing your vaping battery.
All campaign materials can be found below.