Campaigns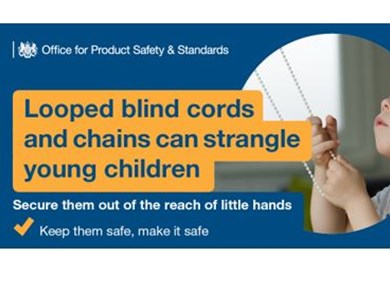 Blind cords campaign
The Chartered Trading Standards Institute (CTSI) is working with the Office for Product Safety and Standards on a campaign to raise public awareness of the dangers surrounding blind cords. The guidance issued by the Office is to help raise public awareness of the dangers of unsecured looped blind cords to very young children and to show simple ways to make them safer. The focus will be on highlighting that millions of blinds bought before the 2014 revision of the European standard, may not have been safe by design nor fitted with appropriate safety devices.
The campaign will inform the public of the potential risks of unsafe blind cords and how they can easily be modified to avoid an incident. 
The key messages for the campaign are:
looped blind cords are dangerous to young children and should be kept out of their reach
check your blinds – are they safe?
fit a tidy, tensioner or a cleat
move furniture away from windows
As part of the campaign, CTSI and The Office for Product Safety and Standards have produced a number of digital resources which can be shared through social media channels. These resources are detailed below. We would appreciate as much participation as possible from consumer protection partners and key stakeholder organisations in sharing these messages. Your involvement in this campaign will ensure members of the public are educated on the dangers that come with blind cords.

You may view the OPSS announcement of the 2021 campaign by clicking this link.
Follow #blindcordsafety for updates across our social media channels. Resources will be added to this page throughout the period of the campaign, so pop back for updates!