EU Exit
The EU's ambition for a harmonised single market has transformed our domestic system of consumer protection and regulation over 40 years. In that time swathes of EU directives, regulations and shared networks have impacted hugely on the role of trading standards. So, as the UK leave the EU, what's next for trading standards?
Take a look through the content below to help you understand the impacts and what it means in context.
---
EU Exit digital training programme - Autumn 2020.
Over 30 hours of CPPD available.

---
CTSI's EU Exit podcasts serve as an opportunity for trading standards professionals to hear from CTSI's lead officers about what to expect from Brexit and how best to prepare.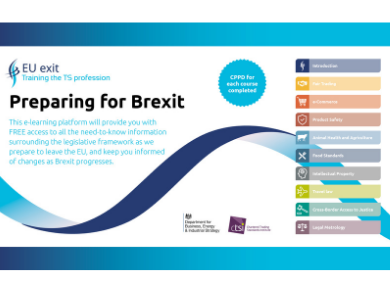 CTSI's EU Exit e-learning platform will help to keep you up-to-date with all the need-to-know information surrounding the legislative framework and keep you informed of changes now that the UK has left the EU.
Register here to receive notification of updates to the digital training programme
Related resources