EU Exit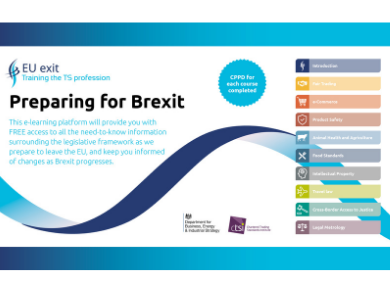 EU Exit training portal
If you are already registered to the e-learning platform, you can login with your username and password here.
Register to the CTSI EU exit e-learning platform and we will keep you up-to-date with all the need-to-know information surrounding the legislative framework now that the UK has exited the EU.
Comprising of a key introduction course and a further nine optional specific subjects areas. For free access to the EU exit portal complete and submit the registration form below:
Error loading Partial View script (file: ~/Views/MacroPartials/InsertUmbracoForm.cshtml)
---
An activation notification will be sent to your email address within 48 hours or your submission (72 hours including a weekend). Please check your junk mail folder.
The portal can only accept your first registration and any further attempts will result in you receiving a re-set password email (check your junk folder). Alternatively, you can use the 'Forgot Password?' function on the
sign-in page
.
​