Equality, Diversity and Inclusion
---
CTSI is fully committed to improving Equality, Diversity and Inclusion (EDI) in our organisation, throughout our membership and across the consumer protection landscape. Ultimately, we hope that our endeavours will help to drive forward a diverse and inclusive culture enabling everyone to thrive.
What is CTSI doing?
CTSI established a Race and Equalities Working Group in October 2020 and this is the culmination of a valuable partnership between staff and members of CTSI. This group aims to oversee work on all equality, diversity and inclusion issues. We have committed to work with our members to ensure that the principles of fairness, excellence, and equality are embodied across our institute. CTSI's EDI Strategy contains 4 Pillars which help to define major areas of work. These include: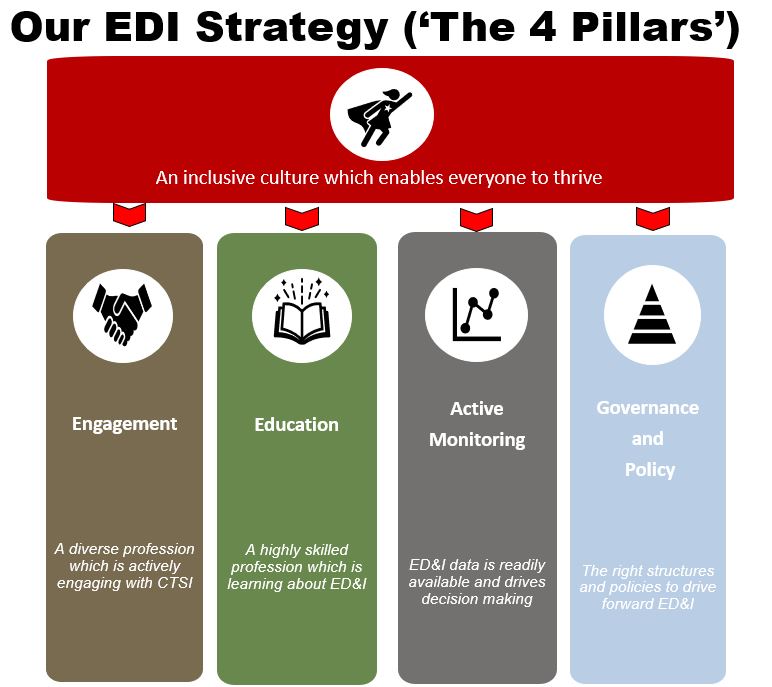 Ensuring Our Activities Reflect Modern Society


We want to ensure that both CTSI and the Trading Standards profession we help to represent, are reflective of the communities we serve.  This will be reflected in our communications, our engagement with different stakeholders and our policy and campaigns work to ensure that they are truly reflective of modern society in the UK



Educating Our Staff and Members


We are dedicated to developing a highly-skilled profession, who are aware of, and committed to EDI.  We have committed to training our staff and offering our members opportunities to learn about these issues, including providing EDI and unconscious bias training to all staff



Listening and Learning


We are committed to ensuring EDI data is readily available and helps to drive decision-making.  This includes undertaking regular surveys with staff and members and ensuring EDI data is captured in terms of our recruitment.



How we Run Our Organisation


We want to make sure that as an organisation we have the right structures and policies in place to drive forward EDI.  This includes a commitment to having EDI representation at all levels of the organisation, including across leadership and management, an annual review of our action plan and reviewing our policies to ensure they take into account EDI issues.
---
In April 2021, CTSI signed up to the Business in the Community Race at Work Charter. The Charter aims to ensure that ethnic minority employees are represented at all levels in an organisation and sets out seven calls to action for businesses to engage in. You can view a full list of signatories here.

If you are a CTSI Member and would like more information about our work in this area, or would be interested in setting up a Regional Equality, Diversity and Inclusion Group, then please contact us by email you can also find information in the useful leaflet below. 
International Women's Day
The Chartered Trading Standards Institute (CTSI), the professional membership association that trains and represents the trading standards profession, celebrates International Women's Day and the worldwide recognition of women's social, economic, cultural, and political achievements. CTSI also acknowledges the widely celebrated day as a call to action for accelerating women's equality.
Now in its 111th year, the theme for International Women's Day is 'break the bias', reflecting on creating a gender equal world, free of bias, stereotypes and discrimination, and promoting a world where difference is valued with diversity, equitability and inclusivity. CTSI recognises that the celebrated occasion is powered by collective efforts and shared ownership that are significant for driving gender parity and ultimately makes International Women's Day impactful. Together we can break the bias in our communities, in our workplaces, in our schools, colleges and universities on this day and beyond.
CTSI appreciates that the profession has been on a progressive journey and values the contribution women have made to it. We have created a poster demonstrating ways in which we can show support on the occasion, and have also listed some book recommendations from acclaimed female authors. CTSI Staff have also been encouraged to wear Purple to the office, signifying justice and dignity for women, contributing to making a positive difference for women in the days to come.