CTSI Approved Code Scheme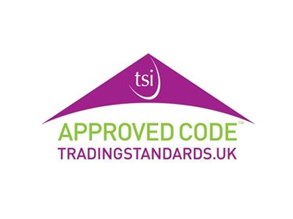 The Approved Code scheme helps businesses to protect consumers with best practices. Offering you additional purchase protection, businesses part of the Approved Code scheme will give you peace-of-mind when using them.
---
Why use an Approved Code business?
As consumers, we know how confusing it can be to ensure you purchase goods and services from reputable businesses, but you can protect yourself by choosing to buy from businesses that display the CTSI Approved Code logo:
TRUSTWORTHY: Only approved businesses (vetted by one of our Code Sponsors) can display the logo. This means the business is reliable and trustworthy.
TRANSPARENCY: Approved businesses have committed to providing clear terms and conditions. This means you know what you are buying - without hidden charges or other conditions - BEFORE you buy. 
COMPLAINT HANDLING: As a consumer, you will have access to a clear complaint procedure and, if necessary, an Alternative Dispute Resolution (ADR) process that avoids legal costs. 
ENHANCED PROTECTION: Using an Approved Code trader means you have protection above and beyond your normal consumer law rights.
---
Want to know more?
You can find out much more about the Consumer Codes Approval Scheme here, and by watching the video below! Or you can take a look at our consumer leaflet - How can CCAS help me?
You can view the Consumer Codes 2022 Annual Report here.
And make sure to follow us on social media:
---
Why trust the Chartered Trading Standards Institute?
CTSI represents trading standards professionals working in the UK and overseas - in local authorities, business and consumer sectors and central government. CTSI exists to:
Promote and protect the success of a modern vibrant economy
Safeguard the health, safety and wellbeing of citizens by enhancing the professionalism of its members
---