CTSI Blogs and Opinions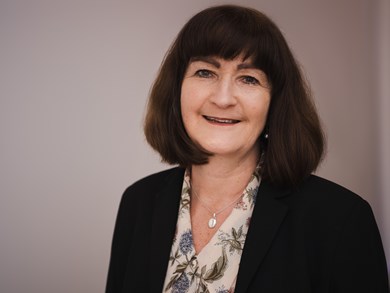 Dangerous Electricals and the Wild, Wild, West of Online Marketplaces
In multiple investigations, Electrical Safety First has found potentially lethal electrical goods easily available to purchase from third-party sellers via online marketplaces. Here, Lesley Rudd, Chief Executive of Electrical Safety First, explains how the campaigning charity is working to address the problem.
While dangerous counterfeit and substandard goods infiltrate every sector, there is particular concern around electrical products. Each year in the UK, almost half of the fires in our homes are caused by electricity and, aside from property damage and financial consequences, the personal cost can be incalculable. Yet in a snapshot investigation, we found more than nine in ten (93%) of electrical items, bought from third-party sellers through online marketplaces, failed safety standards when tested
Lack of responsibility for unsafe goods
Currently, because online marketplaces are not recognised as actors in the supply chain, the General Product Safety Regulations 2005 does not apply to them. Consequently, they have no responsibility for unsafe goods sold on their platforms, and no legal obligation to inform consumers if they have purchased potentially lethal electrical goods.
Recently, we investigated the safety of e-bike chargers sold online. Most of these lithium-ion battery chargers were advertised as accessories for e-bikes, but the listings for some suggested that they could also be used to charge e-scooters and hoverboards. Over the last year, there has been a surge in house fires caused by unsafe batteries and chargers - with a number occurring in high rise, multi-accommodation blocks, where the potential impact is dramatically increased.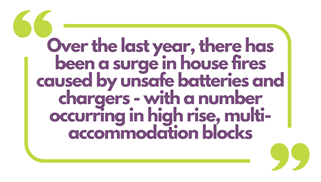 As part of our core activity, we undertake a range of electrical product testing, but the outcome of our investigation into e-bike chargers was particularly concerning. If a charger overheats and starts a fire, its proximity to an e-bike could lead to the lithium-ion batteries being ignited, creating a 'thermal runway'. This chain reaction within the battery cells produces a high-heat fire, where the temperature can increase in milliseconds. Such fires are also difficult to extinguish and expel large amounts of toxic fumes.
All the chargers we tested failed to meet the standard for UK plugs, with many also lacking a fuse ─ which is a legal requirement. Another common issue related to the size and dimensions of the plugs. They were all visibly smaller than required minimum dimensions, presenting a risk of electric shock. Some plug pins were also so poorly constructed they could be easily snapped off. If this happened, with the broken pin remaining in the live terminal of the socket, there would be a serious risk of shock to anyone touching it.
Attaching the wrong plug to a product is often a red flag that it has not been properly tested to UK safety standards, indicating an increased likelihood of substandard or missing components. To determine if a plug is substandard, use our plug-checker, a simple ─ but effective ─ tool, which can be found here. While all of our test items, which were available for sale on Amazon Marketplace, eBay, Wish.com and AliExpress, have since been removed from these platforms, there are still a host of them readily available online.
Throughout the year, we run a number of high profile consumer media campaigns, backed by a strong evidence-base, to highlight the dangers of non-compliant electrical goods. Towards the end of March we will be launching the second stage of our 'Don't be Electricked' campaign. It will emphasise the risks that everyday electrical products ─ such as a hairdryer, mobile phone charger, or e-scooter ─ could present, if purchased from third-party sellers via online marketplaces. The issue will be brought to life through an entertaining video with a serious safety message, similar to one created for the run-up to Christmas (you can view the earlier version here). We have also established a public petition demanding an end to the sale of dangerous electricals sold online, which we are asking people to sign. It can be found on the home page of our website.
Bridging the gap
However, it is not just consumer awareness and behaviour we want to change. We are also working with a range of stakeholders to urge the Government to address the 'legislative gap' around online marketplaces.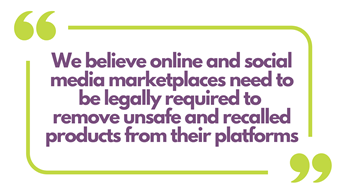 We believe online and social media marketplaces need to be legally required to remove, and not list, known unsafe and recalled products from their platforms ─ and 'sweep' their sites to remove products with the same or similar characteristics. We also believe they should be obliged to verify and educate third-party sellers. So, as I write, we are preparing an open letter, supported by CTSI and Which? amongst others, to be sent to Kemi Badenoch MP, the Secretary of State for Business and Trade.
The letter calls for the urgent publication of the Office for Product Safety and Standards (OPSS) Product Safety Review. Established in response to the concerns raised around consumer safety and the sale of unsafe goods online, the review was expected to be made public almost a year ago. Yet while we wait for its outcomes and recommendations ─ the necessary first step in addressing this, and related, safety issues – consumers are put at risk on a daily basis.
It's time we stemmed the flood of dangerous goods available online, to ensure consumers can be confident products are safe, no matter where they shop. Further delays are unacceptable and could result in fatal consequences.
To get this issue to as wide an audience as possible, we would be grateful if you could sign our petition and share our campaign posts via your social media channels ─ Twitter,  LinkedIn and Facebook.
Electrical Safety First is the UK charity committed to preventing deaths, injuries, and damage, caused by electricity. Recognised as the leading technical authority on home electrical safety, we campaign on behalf of consumers, and work with policy makers and stakeholders, to improve electrical safety regulation and reduce electrical risk.