CTSI Blogs and Opinions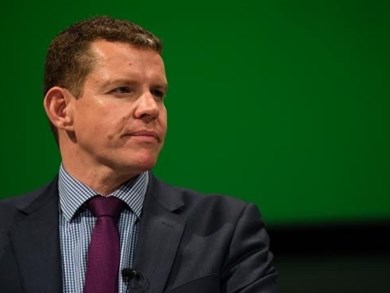 Rhun ap Iorwerth MS - St David's Day
Rhun ap Iorwerth, CTSI Vice President, Senedd Member for Ynys Môn, Plaid Cymru Deputy Leader and Spokesperson on Health and Care, talks about scammers, loan sharks, and what we can all do to help others.
My work as Senedd Member for Ynys Môn has touched on trading standards in a number of ways over the years – in my parliamentary work, the roll out of minimum alcohol pricing in Wales, and the battle against the illegal sale of tobacco are two that spring to mind. But without doubt, the element of trading standards that got me interested in working with CTSI was the need to take on, and indeed beat the scammers who pray on the vulnerable in so many ways.
Over the years, I've worked closely with Anglesey Council's Trading Standards team to highlight local scams and concerns, and in dealing with individual casework where my constituents have found themselves victim to various schemes – from cold callers to internet scammers. Unfortunately, too many of us know of someone who've been taken advantage of, and despite ramping up on campaigns to raise awareness about scams over the years, it can still happen to anyone so easily, and the results can be devastating. It's not just about the money that can be lost, but the confidence knock it can have – making someone feel so vulnerable and isolated because they've fallen victim to a scam when they should know better. Feeling so embarrassed about it that they try and hide it from family and friends. That alone often allows the situation to escalate – and indeed, it's a key strategy relied on by scammers.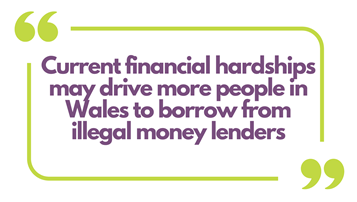 One story that sticks in my mind is that of a former colleague's late mother - an elderly, dying widow, scammed into making multiple payments of thousands of pounds for work relaying her driveway. That case did actually lead to conviction of the perpetrators, and in reports her grieving family spoke about how she was a sensible and cautious lady, and how if she could fall for that sort of scam, it really could happen to anyone.
Beating the scammers is an ongoing battle of course. As more work is done to highlight the dangers and solutions found to stop individual schemes, these criminals adapt and find new ways to lure people in. And now, in a cost of living crisis where more and more people are finding it difficult to make ends meet between the rise in inflation and soaring energy bills, we're facing a stark reality where these scammers seek to cash in on that vulnerability and take advantage of the situation.
We've heard of fake food giveaways and supermarket vouchers on social media that go on to ask for personal details, tv licence scams advising that you can get six months off your licence bill due to the cost of living crisis, and of fake texts and emails about cost of living and energy payments. And in the midst of the confusion, of the googling and the searching for more information on genuine financial assistance that's available, it's easy to see how people can find themselves falling victim to these schemes.
Cost of living crisis
Recent research commissioned by Stop Loan Sharks Wales and Welsh Government has also found that current financial hardships may drive more people in Wales to borrow from illegal money lenders. In that survey, 38% said they're more likely to need to borrow money or credit this year to cover everyday cost, with 50% of those borrowing needed funds for everyday living expenses; of those, 66% for food and 53% to cover energy bills. And whilst scammers may target an older demographic, it's likely that 18 – 34 year olds are most susceptible to targeting by loan sharks – with social media being widely used as a platform to lure in their prey.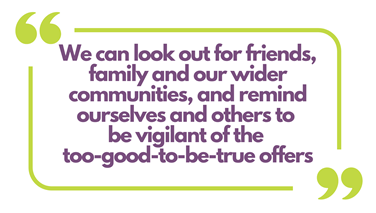 It's a very worrying situation, highlighting the current financial climate where people feel they have no option but to borrow illegally to cover those everyday living costs. We're unfortunately all too aware of people having to make that decision between heating and eating, but it is paramount that we also mention how that is driving people to fall victim to loan sharks and scams.
And in a challenging political climate of chaos and shocking mismanagement of public finances by UK Government, inflationary pressures, rising energy costs and an increase in the costs of living are causing uncertainty and putting unprecedented pressures on already-stretched budgets, what we see is pressure mounting on smaller departments, like our trading standards teams across Wales. In this year's budget, trading standards faces a 30% cut – at a time where there is significant demand on the service.
But the work, in enforcement and on raising awareness, remains as crucial as ever. That's why it's important that we use all of our platforms, as elected representatives and trading standards organisations, now more than ever to advise and highlight the dangers, to raise awareness on signs to look out for that could prevent people from becoming victims, and to signpost to financial support for those facing hardship at this time. We can look out for friends, family and our wider communities, and remind ourselves and others to be vigilant of the too-good-to-be-true offers. We can sign up to become Friends Against Scams as I and my office have done, and spread the word. We can do the little things that are so important – "gwnewch y pethau bychain" as we are reminded to on St David's Day, to try and keep each other safe in the fight against scammers.