Code sponsors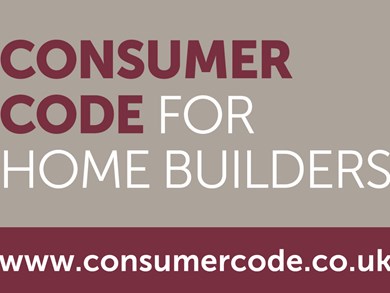 Consumer Code for Homebuilders
The Consumer Code for Home Builders
The Consumer Code for Home Builders exists to make the home buying process fairer and more transparent for home buyers. The Code sets mandatory Requirements that home builders must meet in their marketing and selling of new Homes and their after-sales customer service.
The Code applies to homes covered by the UK's main home warranty bodies NHBC, Premier Guarantee and LABC Warranty (approximately 90% of the new homes market) and includes:
an Independent Dispute Resolution Scheme
an independently audited compliance regime
the power to apply sanctions including excluding builders from home warranty schemes if they do not comply with the Code.
Code requirements overview:
The Code covers a range of customer service requirements, including:
clear and truthful advertising and marketing materials
sufficient pre-purchase information to help home buyers make an informed decision about their purchase
home warranty and contract information
timing of construction, completion and handover
after-sales service and complaints process.
Independent Dispute Resolution Scheme
The Code's Independent Dispute Resolution Scheme is provided by a nationally accredited organisation, the Centre for Effective Dispute Resolution (www.cedr.com). This provides home buyers with a fast, low cost and fully independent route for redress should something go wrong with their purchase.
If home buyers believe a builder has breached the Code, here are the steps to take. 
The Code is overseen by a Management Board, independently chaired by Noel Hunter OBE. The Management Board is supported by an Advisory Forum, which includes representatives from the Chartered Trading Standards Institute and Citizens Advice.
Member since: 2018
Sector: Home warranty
Website: www.consumercode.co.uk