News
Bank branch staff prevent disabled man from losing life savings to scammers
Posted 02/07/14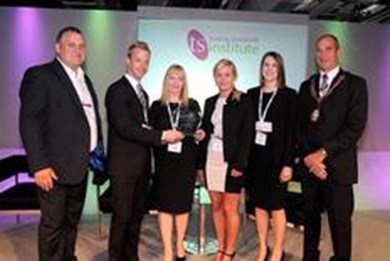 A Halifax Bank team received a group Hero Award at the Trading Standards Institute's Conference in Harrogate on Wednesday for the significant contribution the branch made to consumer protection in Romford.
Following the creation of a doorstep crime preventative scheme called the Havering Banking Protocol, trading standards officers from Havering Council helped train staff on the ways a bank can protect vulnerable members of the community.
Staff embraced the scheme, which involves a dedicated telephone contact at Social Services, and implemented training that helped protect a vulnerable member of the community when he tried to withdraw £100,000. Accompanied by young and unfamiliar Eastern Europeans, the branch staff asked the gentleman why he wanted to withdraw such a large sum of money. He said it was to 'help his cleaner buy a house so that he could go and live with her because she has been very kind to him and would look after him.'
Without undue alarm, a Halifax Bank cashier consulted with the branch's doorstep crime colleague, and delayed the withdrawal proceedings by issuing a 'bankers draft'. Staff knew this would take several days to clear, providing sufficient time to cancel the transaction. This stalling technique allowed the police, social services and the gentleman's family to be alerted.   
TSI chief executive Leon Livermore said: 'As the recent TSI Workforce Survey shows, funding for trading standards services across England and Wales will decline on an average of more than 40% over the lifetime of this parliament. While we work toward a more consistent funding mechanism, heroes like the Halifax Bank Romford branch staff play a vital role in helping trading standards officers protect vulnerable members of the community. 
"I am delighted to present the branch staff with a TSI Hero Award, giving it well deserved national recognition both at the level of the individual volunteers and at the collective trading standards level."
The Hero Award is a fantastic opportunity for TSI to celebrate outstanding contributions by individuals or groups of people to consumer protection in our communities.
Every year TSI is deeply inspired by the stories of winners from around the country – their bravery, altruism and hard work, which too often does not receive due recognition – and presents them with an award at TSI's annual conference. 
Councillor Osman Dervish, Cabinet Member for Regulatory Services and Community Safety said: 
"Havering Council and the staff at the Halifax bank have shown they will not tolerate fraud. That is why the banking protocol scheme was brought in to tackle this type of crime, especially to protect those who are the most vulnerable in our society. 
I'm really pleased that these fraudsters were outwitted by the bank staff and that this man didn't lose his life savings. This just goes to show what a difference someone can make with the right attitude and support." 
For more information please contact press office at pressoffice@tsi.org.uk or 08456089430 / 07780675815.
END
Main Conference sponsor
Notes for Editors:
Photo from left to right: TSI CEO Leon Livermore, Phil Carr, Debbie Dennis, Scarlett Castleman, Nicola Radley, TSI Chairman John Peerless.
For real time updates on what's happening with trading standards, follow our blog at http://tradingstandardsinstitute.wordpress.com/
Trading Standards Institute (TSI)
TSI is a training and membership organisation that has represented the interests of the Trading Standards profession since 1881 nationally and internationally.  We aim to raise the profile of the profession while working towards fairer, better informed and safer consumer and business communities.
TSI's members are engaged in delivering frontline trading standards services in local authorities and in businesses.  
www.tradingstandards.gov.uk @tsi_uk
---