News
Four million people scammed each year
Posted 01/05/14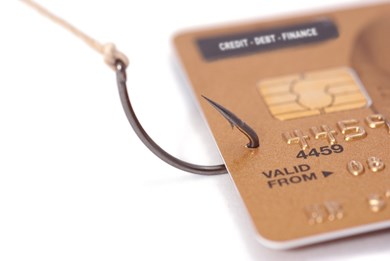 Scams Awareness Month is running throughout May to warn about the fraudsters preying on hard-up households.
Fraudsters are "picking the pockets" of up to four million people each year, finds new research from Citizens Advice.
The charity warns that as people across the country struggle to make ends meet they are being sized up by devious con artists. Scammers are targeting the elderly and desperate people with squeezed finances to swindle them out of their money.
Fraud offences in England and Wales rose by 25% in 2013, compared to the previous year, with 207,252 cases reported to Action Fraud. But Citizens Advice has calculated up to four million people could be scammed each year as many scams go unreported.
Citizens Advice, Citizens Advice Scotland and the Trading Standards Institute today launch Scams Awareness Month and throughout May are urging people to "fight back against the fraudsters". To hear a personal story of how a family stopped detriment to their father, click here.
People are just as likely to be conned over the phone and via text messages as they are through emails and websites. New analysis reveals:
Over a third of scams (34%) were over the phone
Almost a quarter of scams (24%) were through visits to a web site
16% were letter or fax scams
One in ten scams (10%) were through emails
Citizens Advice is warning that people should watch out for non-secure websites that ask for financial details. It's important that people realise scammers are also at the end of the phone and on your doorstep.
Counterfeit cashier cheques, fraudulent lenders offering loans to get hold of personal details, dating scams, ticket cons and computer hacking were amongst commonly reported scams. Online shopping and auction fraud was the biggest single fraud type with almost 40,000 recorded cases.
Trading Standards Institute (TSI) chief executive, Leon Livermore, said:
"Trading standards are on the frontline when it comes to protecting vulnerable people from these scams. Their work makes it tough for scammers to get through to the country's most vulnerable.  Scams Awareness Month gives trading standards and partners like Citizens Advice the opportunity to reach out to those most at risk from scammers, and educate them and members of the community as to how to avoid falling victim to these insidious schemes." 
Citizens Advice Chief Executive, Gillian Guy, said: "Scammers are picking the pockets of millions of innocent people. Pensioners and hard-up households face invasion through their computers, phones, letterboxes, and on the doorstep.
"People who are already struggling to put food on the table, let alone save money day-to-day, are being fleeced of their hard-earned cash. It is disgraceful that scammers are often targeting elderly people with sophisticated scams such as posing as their bank or phone company.
"Every day Citizens Advice staff and volunteers hear from people who have lost out after being tricked.  We are running Scams Awareness Month to encourage people to fight back against the fraudsters pushing their cons into the nation's homes by reporting those scams."
Consumer Minister Jenny Willott said: "Scammers prey on the most vulnerable people in our communities, often leaving them distressed and out of pocket. Not only do people need help and support if they fall victim of a scam, but they also need to know where to turn to find out how to avoid falling victim in the first place.
"This is why I am delighted to give Scams Awareness Month my full backing as part of our on-going battle against scammers. The activities Citizens Advice are planning mean consumers will be better equipped in spotting scams and knowing where they can go for help and advice."
Margaret Lynch, CEO of Citizens Advice Scotland, said: "Across Scotland, CAB will be getting out into their local communities to highlight to people how they can beat scammers. That means being more vigilant, spreading the word and reporting any scams that people come across. By doing this we can help people avoid scams and importantly ensure the authorities can take action to stop scammers in the first place."
One man from Dorset, in his eighties, was phoned out of the blue with an offer to save money on his bills by negotiating about surface water charges. He gave his bank details to the caller and immediately realised after he hung up that he had made a big mistake, worrying that this was because he was getting old.
A flat hunter saw a property advertised online.  He gave the landlord the necessary costs totalling £1450 via bank transfer and £200 cash. When he went to move into the property someone else was already living there. The 'landlord' had fraudulently advertised the property.
Top tips for dealing with scams
If it sounds too good to be true it probably is.
Never give out your bank details or send money unless you are certain you can trust the person contacting you.
Contacted out of the blue? Be suspicious.
Your bank and the police will never collect your bank card, ask for your PIN or come to your home.
Make sure the website's secure, if you are buying online – check for the padlock or "https" next to the web address
It you haven't bought a ticket you can't win it.
You shouldn't have to pay anything to get a prize.
Pressure to make a decision straight away? Take your time and just say: "No thank you".
Walk away from job ads that ask for money in advance.
Computer firms do not make unsolicited phone calls to help you fix your computer.
Don't suffer in silence – tell others about scams.
  What to do if you have been scammed
 Report it to Action Fraud on 0300 123 2040 to help stop it happening to others.
Often you can't get your money back if you've been scammed, especially if you've handed over cash.
If you've paid for goods or services by credit card you have more protection and if you used a debit card you may be able to ask your bank for a chargeback.
Get advice and report scams to Trading Standards through the Citizens Advice consumer service on 08454 04 05 06 (for advice in Welsh phone 08454 04 05 05) or online advice at www.adviceguide.org.uk
 Scams to watch out for
Online shopping and auction scams – internet shoppers get lured into buying phantom cars, mobile phones, pets or anything else you can buy online. Scammers use a range of tricks including bogus websites, spoofed payment services and a nasty new variation called "second chance offers" tempting losing bidders with bogus opportunities. Online property market places are also infiltrated by scammers harvesting legitimate property details and posing as landlords.
Lender loan fraud – some scammers pose as payday lenders or credit brokers and after they have obtained someone's details they pass these on, or take out sums without the person's knowledge or consent.
Online dating scams – con artists groom victims into long-distance relationships using emails, instant messaging, texting and phone calls. Once they are confident of the victim's trust, scammers will tell them about a problem they are experiencing and ask for financial help.
Software scams – fraudsters often use the names of well-known companies to commit their crime as it gives a mask of legitimacy to their cruel schemes. Methods include asking for credit card details to "validate" copies of operating systems, stealing personal information, and installing malware before charging to remove it.
Courier scams (a form of vishing) – where people receive unsolicited telephone calls from scammers posing as police or their bank warning of a fraudulent payment on their card or that their card is due to expire. The fraudster will then attend the person's address or send an innocent courier company driver to collect the card and sometimes provide them with a "replacement" fake card.
For more information contact: 
TSI press office 0845 6089575
pressoffice@tsi.org.uk 
Notes to editors:
Citizens Advice estimates 4,145,040 scams occur year in England and Wales based on only an estimated 5 per cent of victims reporting scams ('Research on impact of mass marketed scams', OFT, December 2006) and the 207,252 recorded cases in 2013 ('Crime in England and Wales, Year Ending December 2013' statistical bulletin, ONS, 24 April 2014).
From initial analysis by the National Fraud Intelligence Bureau (NFIB) of contact method per victim report of scams in England and Wales, reported to Action Fraud and police forces between 1 April 2013 to 31 March 2013, with reports that do not have a specified contact method excluded.
From ONS, 24 April 2014. Note that "the move to centralised recording of fraud makes comparisons over time problematic."
This year the Citizens Advice service celebrates its 75th anniversary. We've planned a year of activity running from January to December 2014.  Contact the press office to find out more.
The Citizens Advice service comprises a network of local bureaux, all of which are independent charities, the Citizens Advice consumer service and national charity Citizens Advice. Together we help people resolve their money, legal and other problems by providing information and advice and by influencing policymakers. For more see the Citizens Advice website.
The advice provided by the Citizens Advice service is free, independent, confidential, and impartial, and available to everyone regardless of race, gender, disability, sexual orientation, religion, age or nationality.
To find your local bureau in England and Wales, visit www.citizensadvice.org.uk. You can also get advice online at www.adviceguide.org.uk
You can get consumer advice from the Citizens Advice consumer service on 08454 04 05 06 or 08454 04 05 05 for Welsh language speakers
Citizens Advice Bureaux in England and Wales advised 2.1 million clients on 6.6 million problems from April 2012 to March 2013. For full 2012/2013 service statistics see our quarterly publication Advice trends
Citizens Advice service staff are supported by more than 22,000 trained volunteers, working at over 3,000 service outlets across England and Wales.
Trading Standards Institute (TSI)
TSI is a training and membership organisation that has represented the interests of the Trading Standards profession since 1881 nationally and internationally.  We aim to raise the profile of the profession while working towards fairer, better informed and safer consumer and business communities.
TSI's members are engaged in delivering frontline trading standards services in local authorities and in businesses. 
---