News
TSI approves first code since OFT handover
Posted 21/03/14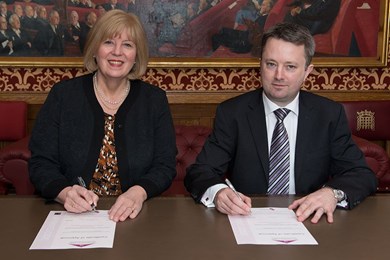 The Trading Standards Institute (TSI) is pleased to announce the approval of its first code since taking over the approved code scheme from the Office of Fair Trading (OFT) in April 2013. 
The Motor Industry Code of Practice for Vehicle Warranty Products ('the code') sets standards for advertising, point of sale obligations, clarity of information, complaints and dispute resolution for code subscribers that manage the sale, claims and after sales on behalf of motor manufacturers, traders, or insurers. 
Consumer minister Jenny Willott MP said: 'This new code should give peace of mind to consumers that when something goes wrong, they will be dealt with fairly and transparently by those businesses which have signed up.'
This code gives consumers added protection when they purchase a new or used car that includes a warranty. Transparency is central to the terms of the code. While unprofessional traders may fail to inform consumers about the limitations of the warranty, approved code members are obligated to go out of their way to ensure the consumer understands the terms. Code membership is voluntary and those businesses that participate agree to strict industry oversight.   
TSI chief executive Leon Livermore said: "A self regulating industry helps with the checks and balances needed to ensure fair trade between businesses and consumers. I am pleased that only one year on, TSI is continuing to maintain high standards across many industries, as well as incorporating and expanding into more industries. We want consumers to further recognise that a business showing an approved code logo is a business they can trust.'
For Chris Mason, Motor Codes managing director, this is another nail in the coffin for rogue operators in the car world. 
Mason said, 'Motor Codes has created a safe shopping environment when it comes to cars. With new cars covered, an approved garage finder and online reviews system and now this rubber-stamping for transparent warranty providers, it's never a lottery when it comes to spending on your car, as long as you choose a Trading Standards Institute approved business.'
This is the third approved code from Motor Codes and impact on consumer protection is clear. Motor Codes recently found in a survey of 57,000 people that 95% of people using TSI approved Motor Codes garage would recommend it to friends and family.
The new code is part of the Trading Standards Institute's Consumer Codes Approval Scheme (CCAS), which has 27,277 member businesses who voluntarily agree to participate in TSI's 12 approved codes. 
ENDS
Notes for Editors:
TSI were invited by the government to create a successor to the Office of Fair Trading (OFT) run Consumer Codes Approval Scheme (CCAS) as part of the Consumer Landscape Review. The TSI CCAS was launched in April 2013.
Further information about CCAS can be found here. TSI run an online directory listing all members of a TSI approved code, so consumers can search for a trader they can trust.
For further information or to arrange an interview please contact the TSI press office on 0845 608 9575 or pressoffice@tsi.org.uk
Trading Standards Institute (TSI)
TSI is a training and membership organisation that has represented the interests of the Trading Standards profession since 1881 nationally and internationally.  We aim to raise the profile of the profession while working towards fairer, better informed and safer consumer and business communities. TSI's members are engaged in delivering frontline trading standards services in local authorities and in businesses. www.tradingstandards.gov.uk 
Motor Codes
Motor Codes managing director, Chris Mason, is available for interview by contacting David Rogers - drogers@motorcodes.co.uk.  
Motor Codes has subscribing garage owners in every region of the UK that can provide regional comment, advice and industry guidance as required. Arrange an interview by contacting drogers@motorcodes.co.uk 
About Motor Codes:
Motor Codes operates Trading Standards approved codes of practice that raise and maintain standards in the service and repair and new car sectors.
Further Motor Codes information is available at www.motorcodes.co.uk 
---