News
Woman scammed out of £250,000 educates the nation
Posted 01/07/14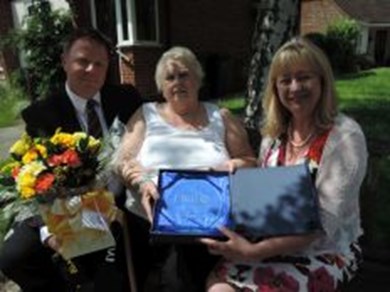 Sylvia Kneller received a Hero Award at the Trading Standards Institute's (TSI) Conference in Harrogate on Tuesday for raising the public's awareness of scams by bravely seeking help from her local trading standards service and then speaking about the experience to a national audience. 
Sylvia, 76, had been receiving scam mail since she was 20-years old, filling in forms and sending money to schemes sent to her through the mail. Sylvia, who has a trusting nature and strong belief in clairvoyants and psychics, also received personalised letters promising her health and good fortune. 
Over 50 years Sylvia sent off £250,000 and never saw a prize.
Sylvia was identified as a scam victim by Surrey County Council's trading standards as a result of Operation Sterling, when a large consignment of scam mail was intercepted at Heathrow airport. When the media got wind of the story, Sylvia made the front page of the Sun newspaper and was featured by many high-profile news organisations, international media sources and on social media.
The media attention that Sylvia bought to scam mail and what vulnerable people can do to avoid becoming a victim was huge, and is arguably one of the largest trading standards stories of the year.
TSI chief executive Leon Livermore said: 'As the recent TSI Workforce Survey shows, funding for trading standards services across England and Wales will decline on an average of more than 40% over the lifetime of this parliament. While we work toward a more consistent funding mechanism, heroes like Sylvia play a vital role in helping trading standards officers protect vulnerable members of the community. 
"I am delighted to present Sylvia with a TSI Hero Award, giving it well deserved national recognition both at the level of the individual volunteers and at the collective trading standards level."
The Hero Award is a fantastic opportunity for TSI to celebrate outstanding contributions by individuals or groups of people to consumer protection in our communities.
Every year TSI is deeply inspired by the stories of winners from around the country – their bravery, altruism and hard work, which too often does not receive due recognition – and presents them with an award at TSI's annual conference. 
Helyn Clack, Surrey County Council's Cabinet Member for Community Services, said: "Our trading standards team was able to help in this distressing example, but we also know unscrupulous scammers continue to target the most vulnerable people. That's why we urge other victims out there to come forward so we can take action." 
For more information please contact press office at pressoffice@tsi.org.uk or 08456089430 / 07780675815. Follow us on Twitter @tsi_uk or #TSIConf
Picture left to right: Steve Playle, TSI lead officer doorstep crime. Sylvia Kneller & Helen Clack, Dorking Rural Conservative, cabinet member for Community Services 
Main Conference sponsor
Notes for Editors:
For real time updates on what's happening with trading standards, follow our blog at http://tradingstandardsinstitute.wordpress.com/
Trading Standards Institute (TSI)
TSI is a training and membership organisation that has represented the interests of the Trading Standards profession since 1881 nationally and internationally.  We aim to raise the profile of the profession while working towards fairer, better informed and safer consumer and business communities.
TSI's members are engaged in delivering frontline trading standards services in local authorities and in businesses.  
www.tradingstandards.gov.uk @tsi_uk
---