News
Consumer champion campaigns against illicit cigarettes in mother's memory
Posted 02/07/15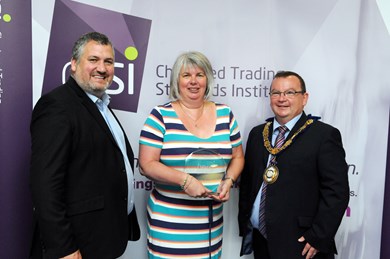 Julie Grant received a Hero Award at the Chartered Trading Standards Institute's Conference in Bournemouth on Thursday 2 July for the significant contribution she makes to campaigning against illicit cigarettes.
In April 2012 June Buffham, Julie's mother, died from a fire at her home which a coroner linked to illegal Jin Ling cigarettes failing to self-extinguish. Consumer champion Julie Grant is a campaigner on social media and supports the work of trading standards nationally. 
Julie has worked with Lincolnshire Trading Standards and Fire and Rescue team on their campaign launched last year, in particular supporting the release of a hard-hitting and graphic video to drive home how quickly a fire can start and spread, often with fatal consequences.
Julie Grant has featured on BBC Radio Lincolnshire and had interviews with local news channels and newspapers all supporting the cause. In December 2014, Julie appeared on BBC One's Fake Britain, where she was filmed telling her mother's story and generating greater public knowledge of the illicit cigarette trade. 
CTSI chief executive Leon Livermore said: 'As the recent CTSI Workforce Survey shows, funding for trading standards services across England and Wales will decline on an average of more than 40% over the lifetime of this parliament. While we work toward a more consistent funding mechanism, heroes like Julie play a vital role in helping trading standards officers protect vulnerable members of the community.
"I am delighted to have presented Julie with a CTSI Hero Award, giving her well deserved national recognition."
The Hero Award is a fantastic opportunity for CTSI to celebrate outstanding contributions by individuals or groups of people to consumer protection in our communities.
Main Conference Sponsor
Notes for Editors:
Picture from left to right: Leon Livermore, CTSI chief executive. Julie Grant, Hero Award winner. Mark McGinty, CTSI chairman.
For more information please contact press office at pressoffice@tsi.org.uk or 01268 582240. Follow us on Twitter @ctsi_uk or #CTSIConf
---