News
NatWest Bank launch new fraud referral policy
Posted 02/07/15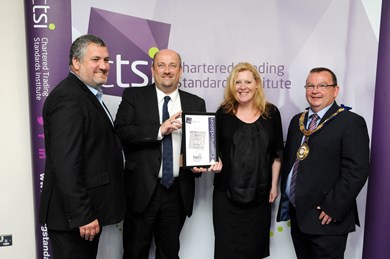 NatWest Bank received a Certificate of Commendation at the Chartered Trading Standards Institute's Conference in Bournemouth on Thursday 2 July for the significant contribution it has made to consumer protection in Wales.
During the last year, NatWest Bank have been working with trading standards staff across Wales to educate the bank staff and customers on doorstep crime, scams and other frauds. 
The team at NatWest Bank have worked hard to help their customers gain a greater understanding of consumer fraud and they have started to implement a referral policy for safeguarding and fraud prevention purposes. 
Along with their contribution to consumer protection, they also showed an interest in getting involved with the CTSI young consumers of the year competition, an event which challenges students aged 14 to 17 years old in a knockout consumer quiz.
CTSI chief executive Leon Livermore said: 'As the recent CTSI Workforce Survey shows, funding for trading standards services across England and Wales will decline on an average of more than 40% over the lifetime of this parliament. While we work toward a more consistent funding mechanism, heroes like NatWest play a vital role in helping trading standards officers protect vulnerable members of the community.
"I am delighted to have presented NatWest with a CTSI Hero Award, giving it well deserved national recognition for a professional approach to reaching out and protecting their customers."
The Hero Award is a fantastic opportunity for CTSI to celebrate outstanding contributions by individuals or groups of people to consumer protection in our communities.
Main Conference Sponsor
Notes for Editors:
Picture from left to right: Leon Livermore, CTSI chief executive. Paul Colclough and Julie Williams, NatWest Bank. Mark McGinty, CTSI chairman. 
For more information please contact press office at
pressoffice@tsi.org.uk
or 01268 582240. Follow us on Twitter @ctsi_uk or #CTSIConf
---