News
Warning about dangerous counterfeit toys
Posted 17/12/15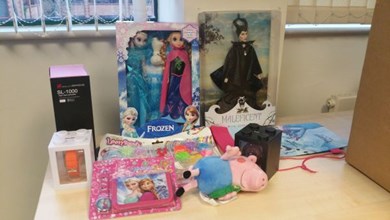 Parents are being warned to be on their guard against counterfeit toys this Christmas after tests revealed some contained harmful levels of chemicals.
The fake Maleficent Disney figures, seized by trading standards officers, are the latest in a long line of counterfeit products found to contain high quantities of phthalates.
Meanwhile, a report published this week has found that £174 million is lost to counterfeit toys and games each year in the UK alone.
Several other cheap imports and counterfeit products - such as dolls, swimming goggles, fancy dress make up, false nails and loom bands - have been seized or recalled because of unacceptable levels of the substance.
If ingested when a toy is chewed the chemical, used to soften plastics, can lead to an increased risk of cancer, asthma and fertility problems in later life.
Robert Chantry-Price, a lead officer for product safety at the Chartered Trading Standards Institute, said:
"It is frightening to think that large quantities of phthalates are still being used in children's toys, especially when it can cause such serious long term consequences to a person's health.
"Phthalates are carcinogenic, mutagenic and can cause reproductive problems but, despite legislation to the contrary, significant amounts of these substances can be found in a wide range of toys and child care products.
"If these toys fall into the hands of very young children or babies, it's more likely they will chew on the plastic and consume the chemicals.

"Trading standards services are continuously working to tackle the issue but it is vital consumers remain vigilant too.
"Parents should be cautious when buying toys this Christmas and not fall for the first deal they see.

"Make sure to buy from reputable shops, beware of products that are drastically cheaper and look at the packaging for the distributor's details and a CE mark.
The National Trading Standards Safety at Ports and Borders Teams prevented 2,582,692 unsafe and non-compliant items from entering the market in 2014/15, a total value of £79,546,900. This included items such as phone chargers, toys, beauty products and mechanical equipment.
The Maleficent toys, seized by Warwickshire trading standards earlier this month, were found to contain 18 times the legal limit of phthalates.
In January, fake 'Frozen' dolls were found to contain phthalates, with thousands of the Disney toys seized from shops in Pontefract and West Yorkshire.
In addition, last year cheap imports of plastic charms from loom bands sets were found to be 50 per cent over the legal limit of phthalates.
The use of phthalates is tightly restricted from use in toys across Europe and toy manufacturers and products must contain no more than 0.1 per cent.
The Office for Harmonization in the Internal Market report found that the EU toy industry loses €1.4 billion a year to counterfeit goods.

Notes for Editors:
---