News
West Yorkshire Trading Standards: 'Stay safe and enjoy fireworks season'
Posted 18/10/17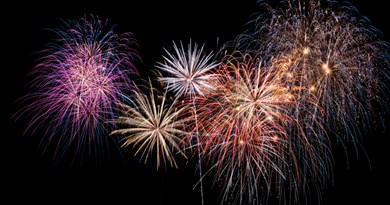 With bonfire night fast approaching and fireworks now on general sale, West Yorkshire Trading Standards Service are reminding traders of their legal responsibilities to ensure they are supplying safe fireworks and are adhering to the law by only selling them to persons of legal age.
As well as being a time for fun and celebration, firework season can often encourage incidents of anti-social behaviour which can cause concern and in extreme cases, fear for vulnerable individuals. Bonfire night and fireworks in general can be great fun for the entire family but it is important that it is celebrated safely. Every year there are accidents caused by improper use of fireworks and carelessness. Figures show that more children than adults get hurt by fireworks, which is one reason why fireworks are an age restricted item.
The Law
It is against the law to carry fireworks in public if you're under 18.
Fireworks must not be sold to anyone who is under 18.
From the 4th July 2017 fireworks marked BS 7114 can no longer be sold in the UK. All fireworks must carry the CE mark.
It is an offence to set off fireworks between the hours of 11pm and 7am, except on Bonfire Night (midnight to 7am), Diwali, New Year, and Chinese New Year (1am to 7am).
Fireworks can only be sold in accordance with the correct licence. During firework season, fireworks can only be sold between the 15th October and the 10th November.
Other periods when fireworks can be sold in accordance with a licence are as following;
On the first day of the Chinese New Year and 3 days preceding it.
On the day of Diwali and the 3 days preceding it.
During the period beginning on the 26th December and ending on the 31st December.
In order to sell fireworks throughout the whole year, traders need an all year round licence.
Did You Know? 
Sparklers get five times hotter than cooking oil
A rocket can reach speeds of 150mph
A firework shell can reach as high as 200m
The following fireworks are not allowed to be supplied to the general public:
Aerial wheels;
Shells-in-mortar;
Air bombs;
All bangers (including batteries and combinations, such as Chinese Crackers)
Mini rockets
Fireworks with erratic flight (e.g. jumping ground spinners, jumping crackers, spinners)
Category 4 professional display fireworks (other than to a person with specialist knowledge)
You can be fined up to £5,000 and imprisoned for up to 6 months for selling or using fireworks illegally. You could also get an on-the-spot fine of £90.
West Yorkshire Trading Standards Service advise that:
Keep naked flames, including cigarettes, away from fireworks
Never use paraffin or petrol on a bonfire
Light sparklers one at a time, wear gloves and never give sparklers to a child under 5 and children over this age should be supervised
Buy fireworks bearing a CE Mark
Only purchase fireworks from licenced premises and do not be tempted to buy fireworks from someone who is selling them in the street or from the back of a van etc.
Keep fireworks in a closed box and follow the instructions on each firework
Light them at arm's length using a taper
Stand well back and never go back to a lit firework
Never put fireworks in your pocket or throw fireworks
Have a full bucket of water handy for any emergency, and for putting used sparklers into
Make sure that the fire is out and surroundings are made safe before leaving
West Yorkshire Trading Standards Service will be carrying out inspections to ensure that illegal fireworks are removed from sale. Trading Standards Officers will also carry out inspections to ensure fireworks are not supplied to anyone under the age of 18 and ensuring retailers comply with the relevant safety legislation. There have been reports that bangers, on the above list of illegal UK fireworks, may be available for sale in the UK this season. Trading Standards request that traders and consumers report this using the Citizens Advice Consumer Helpline.  
Councillor Pauline Grahame, of the West Yorkshire Joint Services Committee which oversees the work of Trading Standards said; "It is important that retailers have procedures in place to ensure that they do not break the law. Although fireworks can be fun, fireworks that do not meet safety requirements or are used incorrectly can cause a great deal of harm. The law is designed to ensure safe fireworks are supplied and fireworks are age restricted in order to protect children. Anybody who is unclear about the law should contact Trading Standards."
David Lodge, Head of West Yorkshire Trading Standards Service said, "As with any legislation it is necessary for everyone to be compliant. Trading Standards can provide information to retailers regarding the safety requirements of fireworks. As with any age restricted product, we provide advice on best practise to ensure businesses are doing all they can to prevent under age sales."
If you are concerned about unsafe fireworks or young people in your area being sold fireworks, please contact Citizens Advice Consumer Helpline on 03454 040506.
---