News
Black Friday Sales: Are you getting the best deal?
Posted 28/11/19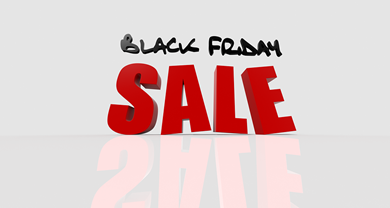 UK consumers are being urged to do their research and not get sucked in by the excitement and   the retailers' hype into buying something in the Black Friday sales. The advice comes as traders - online and in-store - gear up for what many of them expect to be one of their biggest shopping days of the year - Black Friday, on 29 November.
Representing trading standards officers throughout the UK, the Chartered Trading Standards Institute (CTSI) warns shoppers to resist the temptation to stump up the money to 'bag a bargain' without doing their prep first. 
CTSI encourages purchasers to follow these simple rules:
do your research. Check out the items you want to buy first, whether it's online or in-store, and see what is the cheapest price both now and historically
if you've got a bunch of favourite shops, it might be worth following them on social media and signing up to any newsletters to check on their latest deals
check if you can get any extra savings by using discount codes which are often available online 
Lead officer for civil law at CTSI, Peter Stonely, said: "Don't look at the savings, look at the cost. Is it good value? Don't get sucked in by the hype. By doing your research, you'll be more aware of what you really should pay and not be blinded by 'offers'." 
Black Friday has its roots in the US, having started as a sale extravaganza on the first Friday after thanksgiving. For many shoppers in the UK, it is now considered a part of British life with big discounts expected in store and online. Many retailers market aggressively to take advantage of consumer enthusiasm and some stores have even started announcing selected deals early to give shoppers an idea of what to expect on the big day. There is also a move among retailers to stretch Black Friday into a two-week event. 
Peter added: "This early aggressive marketing could make it easier for shoppers to do comparisons and effectively play the retailers at their own game. The trick is to be organised and to always know what you want before you splash the cash. Consumers need to be on their guard regardless of whether they are shopping in-store or online." 
A report by the Office for National Statistics (ONS) in October said that consumers are spending more online than ever before, with the proportion of online spending increasing threefold between 2008 (4.9%) and 2018 (17.9%). It said that 87% of adults are now (2019) daily users of the internet and that the proportion of users shopping online in the last 12 months was 82% this year, up from 53% in 2008. 
However, it found that despite the growth in online presence, consumers still spent most of their money in stores in the last 12 months, with just over 80 pence of every pound spend in-store.
Finding the best deals can be tricky around Black Friday, both online and in-store. Which? recently reported that 87% of the Black Friday deal items it investigated were available for the same price or cheaper at other times of the year.
CTSI Lead Officer on Fair Trading (Pricing) Wendy Potts said: "In some instances prices have been found to be better before or after Black Friday.
"All markets are capable of making doubtful claims which push the legal requirements to the limit. Consumers need to be aware of what the rules are when retailers are selling goods via online marketplaces."
Earlier this year CTSI's Business Companion launched a new free Business in Focus guide called 'Selling goods via online platforms' for traders who sell goods through online marketplaces. The guide reminded online retailers of their obligations about making certain pieces of key information available to potential buyers, including the price including all taxes, delivery costs and arrangements for payments and delivery. And it outlined consumers' rights to cancel their purchase and claim a refund without giving a reason or incurring any liability.
Lead officer for fair trading and trade descriptions at CTSI, Sylvia Rook, summed up when she said: "Black Friday is one of the biggest retail events of the year, but the deals aren't always as good as they may first appear. It is easy to get caught up in the excitement, but you need to keep your wits around you. For example, products are often discounted throughout the year, so may not be on sale for their best price on Black Friday. Others may have their prices inflated in advance in order to make their sale prices seem better than they actually are. 
"Businesses are not allowed to mislead customers as to the saving you are making, so if you think any claims are false, give it a miss and contact trading standards via Citizens Advice consumer helpline. Black Friday is a time when you may be able to get a good deal, but CTSI would advise you to think carefully before you buy."+
 END
Notes for Editors:
For press queries, email CTSI Press Office: pressoffice@tsi.org.uk, or call 01268 582240. 
Chartered Trading Standards Institute (CTSI)
The Chartered Trading Standards Institute (CTSI) is a training and membership organisation that has represented the interests of the trading standards profession since 1881, both nationally and internationally. It aims to raise the profile of the profession while working towards a safer, fairer, and better-informed society for consumers and businesses. CTSI's members deliver frontline trading standards services in local authorities. www.tradingstandards.uk.
Business Companion
Business Companion is a free to use, government backed service, produced by the Chartered Trading Standards Institute and providing free and impartial regulatory advice. Visit www.businesscompanion.info.
---