News
Hero Awards: Illegal money lending safeguard partnership receives Hero award
Posted 26/06/19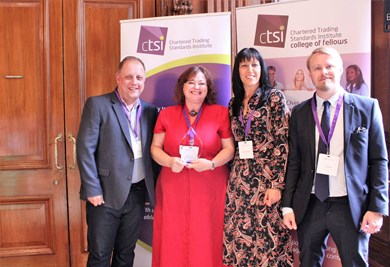 Operation Gripped, a three-way partnership formed in Summer 2018, receives this year's prestigious Outstanding Trading Standards Initiative Hero Award from the Chartered Trading Standards Institute (CTSI), for raising awareness of the perils of using loan sharks in Runcorn, Halton.
Runcorn Local Policing Unit have been working alongside Halton Council Trading Standards and The England Illegal Money Lending Team (IMLT) to educate communities about the risks of illegal money lending and highlight safer borrowing methods to help prevent the use of loan sharks.
In a short space of time successes have included the Spot the Shark social media competition that reached over 64K, Christmas card design competition across local schools and produced a profile raising, imaginative Lego animation.
"Here we have an exemplary display of a community coming together to support those most vulnerable and going above and beyond to inform generations to come. I have the utmost respect for anyone who gives their own time generously to help others, said Chief Executive at CTSI, Leon Livermore.
The CTSI Hero Awards celebrate those who make outstanding contributions towards consumer protection in our communities. PC Ian Hampson and PCSO Georgina Griffiths from Cheshire Police and Halton Trading Standards Manager Deana Perchard were presented with the award at the CTSI Hero Awards 2019 ceremony at One Great George Street, London, on Tuesday (June 25).
Tony Quigley, Head of the England Illegal Money Lending Team, said: "Loan sharks cause untold misery to the most disadvantaged in our communities. I'm really pleased this campaign has received national recognition as it is an excellent example of how partners are working together to keep vulnerable members of the community safe and educate them against falling victim to unscrupulous lenders."
Chief Inspector Sarah Heath, of Runcorn Local Policing Unit (LPU), said: "This is a fantastic achievement and I would like to congratulate everyone involved for what they have accomplished over the past 12 months."
"The devastating and terrifying impact that borrowing from loan sharks has on vulnerable victims often makes prosecutions complex and difficult. To strengthen the community and effectively put these criminals out of business, Runcorn LPU joined forces with the National Illegal Money Lending Team to launch Operation Gripped."
"The objective throughout has always been to engage and empower the community through prevention and education."
"This incredibly varied and innovative campaign has raised awareness of loan sharks across Runcorn. The collaboration has supported extremely vulnerable victims and helped to ensure that others do not become victims of this devastating criminality."
Operation Gripped was presented the award by Paul Evans from Fourth Estate Creative, which sponsored this year's Best Consumer Protection Campaign category.
Watch the Lego Stop Loan Sharks animation produced by Sandymoor High School students here: https://www.youtube.com/watch?v=QhUO2xkriZ4
To report a loan shark call the 24-hour hotline 0300 555 2222, text a report to 078600 22116 or visit www.stoploansharks.co.uk.
End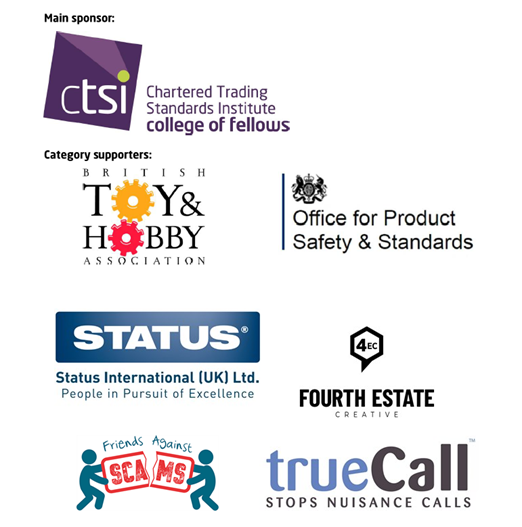 Editors notes
For press queries, email CTSI Press Office: pressoffice@tsi.org.uk, or call 01268 582240. 
The Chartered Trading Standards Institute (CTSI) is a training and membership organisation that has represented the interests of the trading standards profession since 1881, both nationally and internationally. It aims to raise the profile of the profession while working towards a safer, fairer, and better-informed society for consumers and businesses. CTSI's members deliver frontline trading standards services in local authorities. www.tradingstandards.uk.
---