News
Touchstone shows value of hallmarking
Posted 24/02/20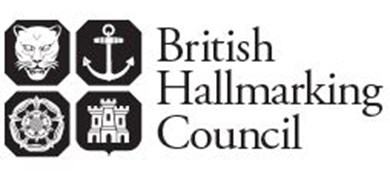 Feeling romantic? Want to spoil someone special? Pop that huge question? Imagine doing that, celebrating, spreading the news far and wide and then discovering that the fabulous "Platinum and diamond ring" in which you invested the recommended one month's salary is actually silver and CZ. Or that the Chanel bracelet you saved for and gifted so proudly is counterfeit. Embarrassing!? Humiliating and potentially irreversibly damaging to a relationship – and your finances.

These are not hypothetical scaremongering situations but real and recent examples that demonstrate the vulnerability of consumers and the importance of hallmarking. Even an expert may not immediately spot a well-made counterfeit that is purporting to be made of precious metal when in fact it is only plated, so deceit is easy. Items purchased online where the image may have been digitally enhanced are even more risky and offer infinite opportunity for irresponsible sellers.

The victim may never discover they have been cheated and if they do they may feel too embarrassed to come forward and report this.

Cheated jewellery consumers

Gold prices are at an all-time high, offering significant scope for fraud and lucrative gain. Several of the applications for the 2019 Touchstone Award demonstrated the high risk and the criminal potential of fraudulent jewellery sales. The cases brought by the Touchstone Winner, Shared Regulatory Services (Cardiff, Vale of Glamorgan and Bridgend) and the Highly Commended entry from Nottinghamshire Trading Standards were typical examples.

Shared Regulatory Services (SRS) were judged winners of the Touchstone Award for the combined outcomes of two consecutive projects. In 2017-18, prompted by the high precious metal prices and the volatile economy, the Service undertook a proactive enforcement campaign amongst jewellers. Twenty-one businesses were inspected and, alongside some minor infringements, one store was found to have twelve high value items, with a total retail price of £25,000, which were suspected to be counterfeit. The items all carried the Trademark of either Chanel or Louis Vuitton which subsequent investigation proved to be fake. The jeweller was found guilty of five offences under the trademarks, Hallmarking and CPUT legislation. The jewellery was destroyed and fines of £1,500 plus compensation and costs imposed.

Subsequently SRS received a complaint from London Assay Office that an eBay seller based in their area was mis-describing jewellery. Test purchases confirmed that this was the case and Trading Standards moved in with a search warrant. Officers found all the equipment and resources associated with an online business and quantities of jewellery plus £13,000 cash were seized. None of the items tested were what they purported to be. Alarmingly, evidence from eBay showed that the online business had delivered 1,347 transactions relating to gold items, 5,194 silver and 332 platinum. Assuming these were single item purchases that amounts to nearly 7,000 consumers cheated by just one online seller.

Reinforcing hallmarking

The potential scale of this criminal activity is enormous. An internet sweep carried out on behalf of the British Hallmarking Council over a 10-day period in March 2019 identified 17,657 listings for 'gold jewellery' across the key sites. Of these, 36% – nearly 3,500 articles – made no mention of a hallmark. Only continual enforcement and significant publicity and warnings and punishment will begin to deter these criminals.

SRS drove a successful case and the business owners were prosecuted for twenty- three charges of offences under the Hallmarking Act, CPUT and the Trademark Act. The site was also offering counterfeit cosmetics and there were offences under the Cosmetic Product Enforcement Regulations and for fraud. The fact that they made false claims as to membership of respected professional bodies such as the National Association of Jewellers (NAJ) did not help their defence. The case was of great interest to the NAJ who are supporting the four UK Assay Offices in sponsoring the Touchstone Award. This was a thorough, well researched, enforcement activity with a successful outcome due to continual, committed follow up. SRS were worthy winners of Touchstone 2019.

Nottinghamshire Trading Standards were Highly Commended as a close runner up and against a weaker field of entrants could have been winners. Their application had many similar factors to SRS. Focusing on an online seller, Angel Diamonds, Nottinghamshire picked up a complaint about items described and sold as "Platinum, Hallmarked Pt 950" and diamonds. The small print added "Lab created diamonds" but even so the NAJ member who reported this site found the pricing of the items between £80 and £600 concerning. Two items test purchased for a total £50 would have had a value of £8,000 if they had been as described. But the vulnerable consumer who rarely buys fine jewellery may have no idea that that is the case. This is proven by the sad fact that out of 58 purchasers identified and advised that they had been cheated by Angel Diamonds, only six were prepared to step forward as a witness. Many of the remaining victims did not want the information to be revealed publicly.

Both the Welsh and the Nottinghamshire cases demonstrate yet again the importance of hallmarking enforcement and the need to follow through one-off complaints. So many strong Touchstone entries are the outcome of following up one small query. The NAJ and their members are keen to support hallmarking and regularly have infringements to report. They are now advised to contact Citizens Advice (which accepts complaints on this area from businesses as well as individuals) and add the complaints to the National Database so that Trading Standards have visibility of all actual or suspected infringements reported and can take appropriate action. The link for this is on the British Hallmarking Council website.
Organised crime

A further entry from Birmingham Trading Standards was in a league of its own. This was a hallmarking case that ranks alongside the top three cases in hallmarking during the last 125 years. It is as important as the Lyon and Twinham, Alan Shindler and Ashley-Russell cases.

The case detailed significant organised crime relating to fake gold bangles and an extensive, lengthy, high risk investigation which included covert surveillance, several search warrants and collaboration with police and other agencies. The activity merited a Special Award from the British Hallmarking Council.

The case delivered by Birmingham for which a one off Special Award was presented by the British Hallmarking Council demonstrates the value of following up complaints fully only too clearly. A complaint from a jeweller who took some allegedly 22carat bangles to be melted and discovered them not to be 22ct throughout but heavily plated over a base metal core, led to a four year investigation and a nine week trial in the Crown Court. The commitment, courage and determination of the Birmingham team uncovered crimes including fraud to a value assessed between £300,000 and £500,000, modern slavery practices and witness intimidation. This was far from a typical, careless entrepreneur buying a few pieces of jewellery in bulk from China and reselling on eBay without undertaking any due diligence on the product. This was deliberate, large scale, organised crime with no feelings for the vulnerable customers, many of them known personally to the criminals. As in so many cases, if that one complaint had not been followed up so diligently and tenaciously by Trading Standards many more unsuspecting victims would be being defrauded and the criminals would still be free.
The Touchstone Award was introduced to raise awareness of the importance of hallmarking. Every year the applications underline time and time again how crucial it is that this practice which is nearly 700 years old is still enforced and every year the applications demonstrate that that one single query or complaint could be just the tip of a massive iceberg.
---