News
CCAS raises business reputation among its code sponsors
Posted 01/11/21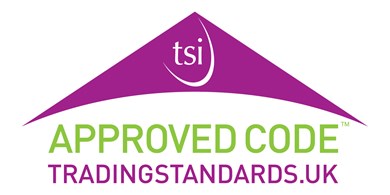 According to a recent survey of its business code sponsors, the Consumer Codes Approval Scheme (CCAS) announced that almost 94% believed membership in the scheme raised their reputation.
In the survey, which questioned CCAS code sponsors about their role in the scheme, almost 94% of code sponsors responded that they believed CCAS membership enhanced their business reputation. The scheme is committed to promoting codes of practice that meet core consumer protection criteria that have obtained Chartered Trading Standards Institute (CTSI) approval.
Furthermore, over 82% of CCAS members said that they believed the use of the CCAS logo at their business increased the confidence of their consumers.
Sue Steward, Head of Client & Commissioning at the Chartered Trading Standards Institute (CTSI), which operates the scheme, said: "During these challenging times, consumer confidence is vital for supporting business recovery and growth. The COVID-19 pandemic impacted businesses negatively as well as hitting the public's confidence.
"I am pleased to see that CCAS is making a difference on this front, and with good reason - the code encourages businesses to implement standards that improve their relationship with their customers and their buying experience. Consumer trust and confidence makes all the difference and enables companies to set themselves apart from their competitors.
"We always seek potential new code sponsors and members to partner with us who share our values of excellent customer service and a duty to improve consumer experiences continually."
CTSI President and CCAS Chair, Lord Lindsay, said: "I am extremely proud to sit as Chair of the Board for CCAS. I recognise the importance of customer-facing standards and their role in instilling greater trust, confidence and credibility in products and services.
"By joining as a code sponsor you are giving consumers the confidence that your business has a proven commitment to honesty and delivers higher customer standards. The survey shows that almost 94% of code sponsors believe being part of CCAS has enhanced their business reputation. As the scheme grows, we look forward to working with many more organisations to support and inspire business and consumer confidence."
To find out how your business can become a CCAS code sponsor please click here - https://www.tradingstandards.uk/commercial-services/consumer-codes-approval-scheme/how-do-i-become-a-code-sponsor
ENDS
Notes for Editors:
CTSI Press Office: pressoffice@tsi.org.uk, 01268 582240
The Consumer Codes Approval Scheme (CCAS) is facilitated self-regulation. It aims to promote consumer interests by setting out the principles of effective customer service and protection. It goes above and beyond consumer law obligations and sets a higher standard, showing consumers clearly - through the right to display the CTSI approved code logo - that code members can be trusted. Find more information about our CCAS scheme on the CTSI website.
Chartered Trading Standards Institute (CTSI)
CTSI is a training and membership organisation that has represented the interests of the Trading Standards profession since 1881 nationally and internationally. We aim to raise the profile of the profession while working towards fairer, better informed and safer consumer and business communities.
---