News
Carpenter cracks counterfeiting operation
Posted 01/07/14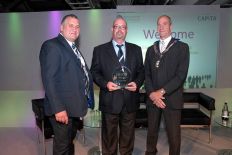 Truro carpenter Keith Bunt received a Hero Award at the Trading Standards Institute's (TSI) Conference in Harrogate on Tuesday for his significant contribution to consumer protection.
It was while carrying out repairs on a property that Mr Bunt noticed several stacks of counterfeit DVDS, CDs and games. Choosing not to turn a blind eye, the housing association employee reported the illegal stash to Cornwall Council Trading Standards. It was through the evidence provided by Mr Bunt that a conviction was secured and the offender was sentenced to 12 months imprisonment on 29 August 2013. 
TSI chief executive Leon Livermore said: 'As the recent TSI Workforce Survey shows, funding for trading standards services across England and Wales will decline on an average of more than 40% over the lifetime of this parliament. While we work toward a more consistent funding mechanism, heroes like Keith play a vital role in helping trading standards officers protect vulnerable members of the community.
"I am delighted to present Keith with a TSI Hero Award, giving him well deserved national recognition both at the level of the individual volunteers and at the collective trading standards level."
The Hero Award is a fantastic opportunity for TSI to celebrate outstanding contributions by individuals or groups of people to consumer protection in our communities.
Every year TSI is deeply inspired by the stories of winners from around the country – their bravery, altruism and hard work, which too often does not receive due recognition – and presents them with an award at TSI's annual conference. 
For more information please contact press office at pressoffice@tsi.org.uk or 08456089430 / 07780675815. Follow us on Twitter @tsi_uk or #TSIConf
Picture from left to right: TSI CEO Leon Livermore, Hero Award winner Keith Bunt and TSI Chairman John Peerless.  
Main Conference sponsor
---