News
Self storage industry embraces self-regulatory scheme to prevent storage of illicit goods
Posted 02/07/14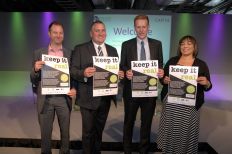 More than 35 self-storage companies, including Access Self Storage Ltd, Big Yellow Self Storage and Safestore Ltd, amongst others, are voluntarily participating in a new code with trading standards, which introduces strict policies to keep counterfeit goods and other illegal products out of their storage facilities.
The code of practice, which is promoted under the banner, 'Tick Box: Keep it Real. Keep it Legal', was introduced by London Trading Standards Authorities (LoTSA) after a series of intelligence-led visits in September 2012, code-named Operation Lauderdale, resulted in seizures of counterfeit goods from self-storage facilities in the capital.
The findings from Operation Lauderdale were used by LoTSA, working with the Self Storage Industry Association (SSA UK), to develop the new, self regulatory Tick Box code of practice. As part of the introduction of the code of practice, 97 audit visits to self storage facilities were carried out during March and April 2014 by trading standards officers from 29 London authorities. As a result of these visits, 65 premises were considered to be compliant with the terms of the code of practice and a number are pending.
Rennie Schafer, CEO of the SSA UK confirmed the trade association's support for the scheme saying, "The Self Storage Association UK encourages all its members to achieve best practice in terms of operations and security, we actively work with various government departments in terms of both enforcement and education programs. We are particularly supportive of the Tick Box campaign as most of the core elements, such as vigorous checking of customers ID, have been part of our minimum standard for some time and we believe these practices should be a fundamental part of all self storage operations.
"Furthermore we see advantages in educating the customers of self storage businesses to be on the lookout for people storing counterfeit and other illegal goods, which the Tick Box campaign works towards. We would welcome the opportunity to work with trading standards on taking this program nationally and other relevant education programs in the self storage industry."
Among other things, businesses adhering to the Tick Box campaign agree to do the following:
 prohibit the storage of illegal goods including counterfeits and non duty paid alcohol/tobacco;
have robust ID checks in place requiring those looking for a self-storage facility to show a photograph ID and proof of address 
ensure all employees are aware of the requirements of the code of practice;
make customers aware of the company's commitment to fair trading and the code of practice.
"Trading standard and the Trading Standards Institute (TSI) have long worked with businesses who are looking for ways to effectively comply with regulations," said TSI CEO Leon Livermore. "The Tick Box campaign is one more excellent partnership between trading standards and businesses to help protect consumers."
Karen Tillett, LoTSA, said, "Through the Tick Box code of practice we are using self-regulation to support the enforcement efforts of Trading Standards departments across London. We have a good response from business and would recommend the Tick Box campaign process and materials for use in all Trading Standards Regions. Please contact reply@lotsa.org.uk for more details."
Facilities which comply with the code of practice are provided with the Tick Box logo, copies of the code of practice and posters to display within the premises to act as an assurance to legitimate customers and a deterrent to anyone attempting to store illicit goods. 
For more information about the Tick Box code of practice, visit the Tick Box website www.tick-box.org.uk
Notes for Editors:
Picture inset: Russell Bignell, trading standards Wandsworth Council; TSI CEO Leon Livermore; Rennie Schafer, CEO Self Storage Association; Karen Tillett, LoTSA. 
For general information on trading standards issues, please contact the Trading Standards Institute press office on 0845 608 9575 or pressoffice@tsi.org.uk
For information on the Tick Box scheme, contact Russell Bignell, Senior Trading Standards Officer, Lead Officer for Anti-Counterfeiting, London Borough of Wandsworth. Tel: 0208 871 6179. Email rbignell@wandsworth.gov.uk
Images
The following images are available:
1.The inside of a self storage unit containing a large quantity of counterfeit products seized as part of Operation Lauderdale.
2.Detection dog and handler at work at a self storage facility as part of Operation Lauderdale.
3.The Tick Box logo
Operation Lauderdale
In September 2012, as part of Operation Lauderdale, trading standards officers from 19 London boroughs, working with enforcement partners including HMRC and Police, inspected more than 25,000 individual units within 51 self-storage facilities. For the first time in such an investigation, sniffer dogs were used to detect counterfeit products, resulting in nine large seizures including tobacco, tobacco packaging machines, counterfeit packaging, alcohol, luxury branded goods, headphones, lighters, laser pens, pushchairs and DVD inlays. The total value of the good seized is estimated at over £6.5 million.
Trading Standards Institute (TSI)
TSI is a training and membership organisation that has represented the interests of the Trading Standards profession since 1881 nationally and internationally.  We aim to raise the profile of the profession while working towards fairer, better informed and safer consumer and business communities. TSI's members are engaged in delivering frontline trading standards services in local authorities and in businesses.  
www.tradingstandards.gov.uk 
Tick Box Partners
The main partners involved in the project included Trading Standards Institute, Intellectual Property Office (IPO), HM Revenue and Customs (HMRC), UK Border Force (UKBF), Met Police, Medicines Health Regulatory Authority (MHRA), National Crime Agency (NCA), UK Immigration, Federation Against Copyright Theft (FACT), Industry Trust for IP Awareness, BPI, Alliance for IP and the Self Storage Association (SSA UK).
---