News
TSI calls for evidence on the Pricing Practices Guide
Posted 05/02/14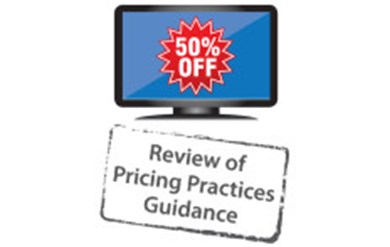 The Trading Standards Institute (TSI) wants to know what businesses and consumers think about the existing Pricing Practices Guide (PPG), which sets out guidance for retailers on how to price goods and services and offer discounts or promotions. 
The PPG is a successor to a code of practice developed in 1988 as way to protect consumers from misleading prices and help create a platform for fair competition for businesses. The guidance, which has no statutory force, is widely used by business to help demonstrate professional diligence in their pricing policies and practices.
This guidance has stood the test of time but given modern means of commerce raise a number of questions. Is it still effective? Does it manage to strike a balance between protecting consumers without being overly restrictive on businesses? Is it relevant in a modern trading environment? Is it driving behaviour that is counter-productive for ensuring fair pricing policies? 
TSI's call for evidence, which was published today, will address these issues in 14 targeted questions about the PPG.
'The PPG originated in the late 80s,' said TSI CEO Leon Livermore. 'Since then, consumer buying habits have changed drastically. The myriad of means of getting a product to market has been great for both consumers and businesses but it does provide opportunities for some to trade unfairly. It's really important that the Pricing Practices Guide reflects the needs of both businesses and consumers and this is an opportunity for both to comment and help shape guidance.'
Consumer Minister Jenny Willott said:
'It is essential that the rules protecting consumers when they shop keep pace with how they shop. By calling for evidence to test if the guidance should be updated, TSI is making sure the current pricing practices guide is right for the modern shopper. This will not only help businesses know what is expected of them, but will also mean consumers always get a fair deal.'
The British Retail Consortium (BRC) also lent support for the call for evidence.
'It needs to be clearly understood that following the guide is purely voluntary,' said Graham Wynn, BRC's assistant director for Regulatory & Consumer Affairs. 'Under EU law it cannot impose any particular rules on retailers. It provides one way of complying with the law but accepts there are other ways. However, many retailers use it to provide them with advice on how to comply with the law.
'Developments in omni-channel retailing and issues such as reference pricing, the 28 day rule and one-to-one promotional periods, are among items that need to be considered. Once the final document is produced all regulators should be committed to accepting it as one way of being compliant. That includes trading standards, the Competition and Markets Authority (CMA) where relevant, the Advertising Standards Authority (ASA) and Clearcast. Consistency in this should be the order of the day.'
Other issues to be raised include whether the guidance should be more detailed and whether the Pricing Practices Guide is clear and practical for traders to apply. 
All businesses and consumers are invited to participate in the evidence, which can be read on the TSI website. The call for evidence will close on 30 April 2014. 
Click here to download the call for evidence.
ENDS
Notes for Editors:
For further information or to arrange an interview please contact the TSI press office on 0845 608 9575 or pressoffice@tsi.org.uk
Trading Standards Institute (TSI)
TSI is a training and membership organisation that has represented the interests of the Trading Standards profession since 1881 nationally and internationally.  We aim to raise the profile of the profession while working towards fairer, better informed and safer consumer and business communities. TSI's members are engaged in delivering frontline trading standards services in local authorities and in businesses. www.tradingstandards.gov.uk 
---