News
Media Hero Award presented to BBC1's consumer champion Matt Allwright
Posted 01/07/15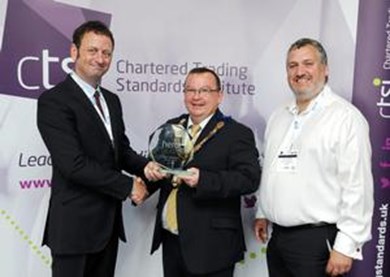 Matt has been awarded the CTSI Media Hero Award for his consistently high level of consumer journalism which has drawn sympathy to consumer victims, attention to scams and helped to bring down rogue traders.  
His trademark programme is BBC1's Rogue Traders, which is now in its fifteenth year, but he is also currently presenting Watchdog with his old sparring partner Anne Robinson. 
His consumer journalism and engaging manner as a presenter have drawn high viewing numbers to many popular consumer programmes on TV schedules for nearly twenty years, including Scambusters, Brassed off Britain, Rogue Restaurants, Christmas on the Frontline and The Secret Tourist, amongst many others. Other recent BBC projects include You've Been Scammed, Fake Britain, Food Inspectors, and The Housing Enforcers, which he co-devised with Two-Four Productions. 
CTSI chief executive Leon Livermore said: "The work Matt does, and his lively approach, have helped to maintain consumer issues high on television programme schedules. The media plays a very important role in helping trading standards keep consumers aware of scams and rogue traders, and in shining the light on dodgy dealers and criminals. We are delighted to recognise Matt with our CTSI Media Hero Award as a sign of our appreciation of this support."
Matt Allwright said: "I can't believe I've received an award as a trading standards hero because I don't really deserve it. All I do is the job that I love, supported by a fantastic team who look after me brilliantly and provide me with stories backed up with evidence and help from trading standards. It's something I really believe in, something I hope desperately changes people's lives and makes a massive difference so to receive an award for it is the icing on the cake. I really appreciate it so thank you very much indeed to CTSI."
 Main Conference Sponsor 
Notes for Editors:
Photo from left to right: Matt Allright, Media Hero Award Winner. Mark McGinty, CTSI chairman. Leon Livermore, CTSI chief executive.
For further information or to arrange an interview or to obtain photographs please contact the CTSI press office on 01268 582240 or
pressoffice@tsi.org.uk
---