News
Ashfords LLP and CTSI Launch Innovative Regulatory Solution
Posted 07/11/16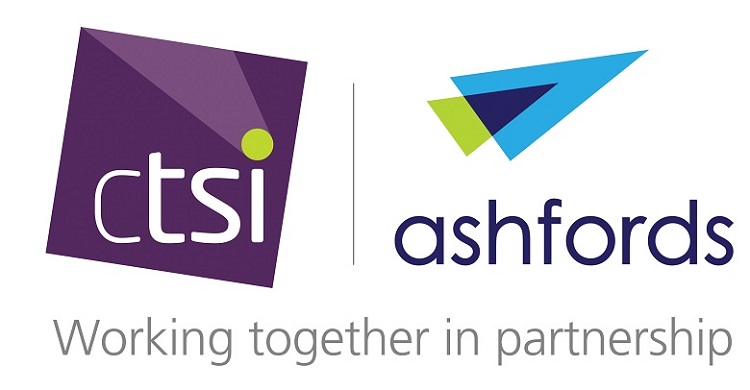 National law firm Ashfords LLP has partnered with the Chartered Trading Standards Institute (CTSI) to deliver a new and innovative regulatory solution tailored to the individual requirements of businesses. 
BRS
 is a comprehensive, personalised 'Business Regulatory Solution' launching at the beginning of November, and it is designed specifically for any sized business. BRS will help businesses co-ordinate the regulatory advice and resources they use throughout their organisation by providing detailed commercially focused guidance on areas such as:
Health and Safety 
Food
Fair Trading
Fire
Environment
Product Safety
Licensing
Dealing with customers 
Each client will be welcomed to the online platform with a tailored and co-ordinated package focusing on their specific business requirements, which will help them to ensure their business is protected and compliant. 
It can be difficult for businesses to navigate the frequently changing regulatory landscape, so BRS will provide a perfect solution by allowing businesses to easily access all of the regulatory information they need in one secure and customised place. The plain speaking regulatory advice and resources will take the confusion out of regulation.
Rob Belton, Director HSEQ at Ashfords LLP, commented: "This proficient, co-ordinated service will offer clients an extensive single point service covering advice on safety, food, environment, fair trading, fire and licencing. We are delighted to further strengthen our relationship with the CTSI through the exciting launch of BRS – our Business Regulatory Solution designed specifically to support our valued new and existing clients."
Ashfords entered into a first-of-its-kind strategic partnership with the CTSI in January 2016 to deliver Regulatory Consultancy services to businesses, enabling them to access expert advice on trading standards and other regulatory matters. 
Nikki Pasek, Commercial Director at CTSI, commented: "We are really excited to be launching this new innovative platform in conjunction with Ashfords. It will provide their businesses with easy to understand regulatory information and resources, all on one bespoke platform. It will help businesses to ensure they keep up-to-date with legislation, providing them with confidence in the way they are working and helping to improve compliance."
ENDS
For more information
Gabrielle Broomhead, Client Relationship Executive, Ashfords LLP g.broomhead@ashfords.co.uk 0207 544 2430
Kathryn Deeley PR Executive, Ashfords LLP, k.deeley@ashfords.co.uk 01392 333668
Ashfords LLP
www.ashfords.co.uk
Ashfords LLP is a national provider of legal and professional services.
Our clear direction and strong leadership ensures clients always receive the service they deserve and expect. 
Our commitment to excellence is reflected by the quality of our people and Partners, our client testimonials and industry awards. We hold both the ISO 9001 Standard and the Legal Services own Lexcel Accreditation in Quality Management.
The firm employs approximately 500 people across its six offices in Exeter, London, Bristol, Taunton, Tiverton and Plymouth. Ashfords provides international advice through its ADVOC network, with representation in over 60 countries.
Ashfords LLP is a limited liability partnership, registered in England and Wales with registered number OC342432.
Ashfords LLP is authorised and regulated by the Solicitors Regulation Authority. Address, contact and partner details can be found at www.ashfords.co.uk. 
Chartered Trading Standards Institute (CTSI)
www.tradingstandards.uk 
CTSI is a training and membership group that has represented the interests of the Trading Standards profession since 1881 nationally and internationally.  We aim to raise the profile of the profession while working towards fairer, better informed and safer consumer and business communities.
CTSI's members are engaged in delivering frontline trading standards services in local authorities and in businesses.
---