News
Banking specialist saves couple from potential £1m fraud
Posted 30/06/16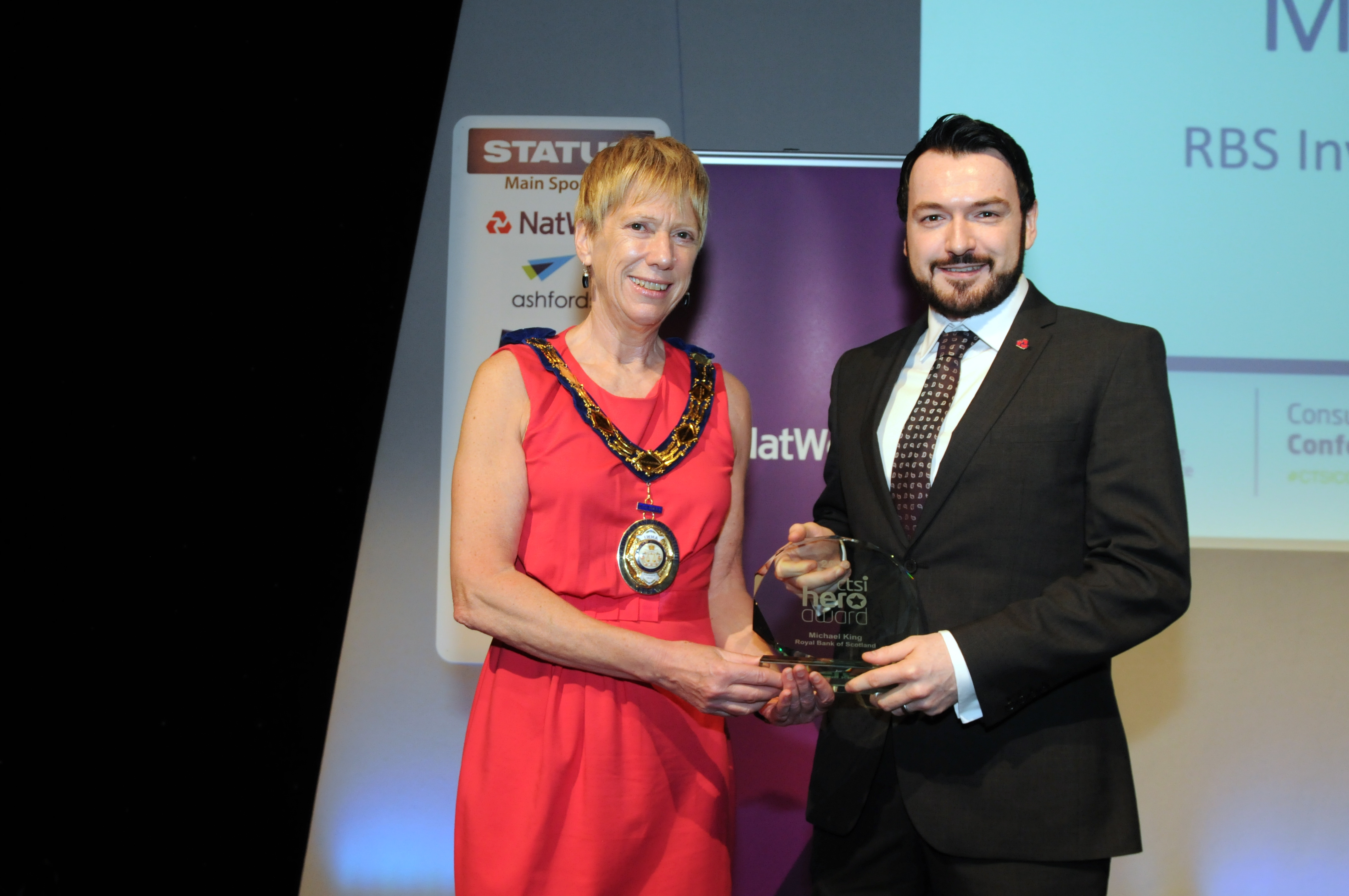 Trading standards experts have praised a banking specialist that saved a vulnerable couple who were being repeatedly targeted by scammers and were set to lose their £1 million life savings.
The Chartered Trading Standards Institute (CTSI) awarded Michael King, from the Royal Bank of Scotland (RBS), with a Hero award at its annual conference last week.
Mr King, from the RBS investment fraud team, succeeded in convincing the couple that they were being scammed, after their two previous banks simply closed their accounts, allowing them to be targeted again.
Leon Livermore, CTSI chief executive, said: "All too often scam victims don't realise they are being scammed until it's too late and the criminals have bled them dry.
"This is what was happening to this couple. Their previous two banks tried to help but, when they wouldn't listen to reason, their accounts were closed and the cycle just continued.
"Thankfully Michael took a different approach and he enlisted the support of the victims' local trading standards team to make sure the message got through."
Mr King, part of the Edinburgh-based RBS financial crime intelligence and investigations unit, was alerted after the victims transferred tens of thousands of pounds to suspected fraudsters.
It later transpired the couple had previously lost £30,000, had fallen victim to other types of fraud and there were concerns about overly expensive direct debits, which RBS were able to assist with.
The victims, in their mid-80s and from Devon, later confided that they suspected their money was going to criminals but that they continued to make payments "in order to maintain good family relationships."
Rob Quinlan, from Devon and Somerset trading standards, who nominated Mr King for the award and worked on the case, said: "Criminals work hard to gain the trust of their victims and these people had been taken in.
"Their two previous banks asked that they leave rather than facilitate the fraudulent transactions but thankfully RBS has a more robust approach.
"Together we were able to educate and support this couple, who were set to give away their entire life savings and with it their independence.
"This started as a referral about financial abuse but it soon became clear that the victims were the subject of many types of fraud but we were able to support them to avoid them falling victim again.
"The case has also opened the door for other referrals and hopefully we will be able to protect even more vulnerable victims of financial abuse as a result."
The award was presented during Consumer Day which brings businesses, consumer organisations and the voluntary and community sector together to discuss consumer issues.
Les Matheson, chief executive officer of personal and business banking, NatWest, which has sponsored Consumer Day, congratulated Mr King on his award.
"I congratulate Michael (Mr King) on his outstanding work in stopping this fraudulent act against a customer.
"Without his tenacity and the great support of the Investment Fraud Team, the fraudsters could have continued for much longer.
"By working with partners, including trading standards, Michael was able to resolve the issue and protect the customers' finances.
"Collaborating with industry partners such as trading standards, Get Safe Online, and the Home Office Joint Fraud Taskforce is vital, as are our Community Protection Advisors whom, this year alone, have protected over £70m of customers money from fraudsters.
"Keeping our customers' finances safe and secure is a key priority, and we are constantly working on innovative ways to protect them and limit the negative impact fraud and scams can have on the health and wellbeing of our customers."
Mr King said: "It's an honour to be recognised and receive the Hero award from CTSI.
"It's a testament to the hard work and commitment of the Investment Fraud Team and our partners. By working together we can make fraud and scams a thing of the past."
Nine Hero awards and three certificates of commendation were presented during this year's CTSI Consumer Affairs and Trading Standards Conference and Exhibition in Telford.
ENDS
Notes for Editors:
Pictured from left to right: Christine Heemskerk CTSI chair and Michael King
---