News
Brave pensioner who lost home to fraudsters is recognised with CTSI Hero Award
Posted 30/06/16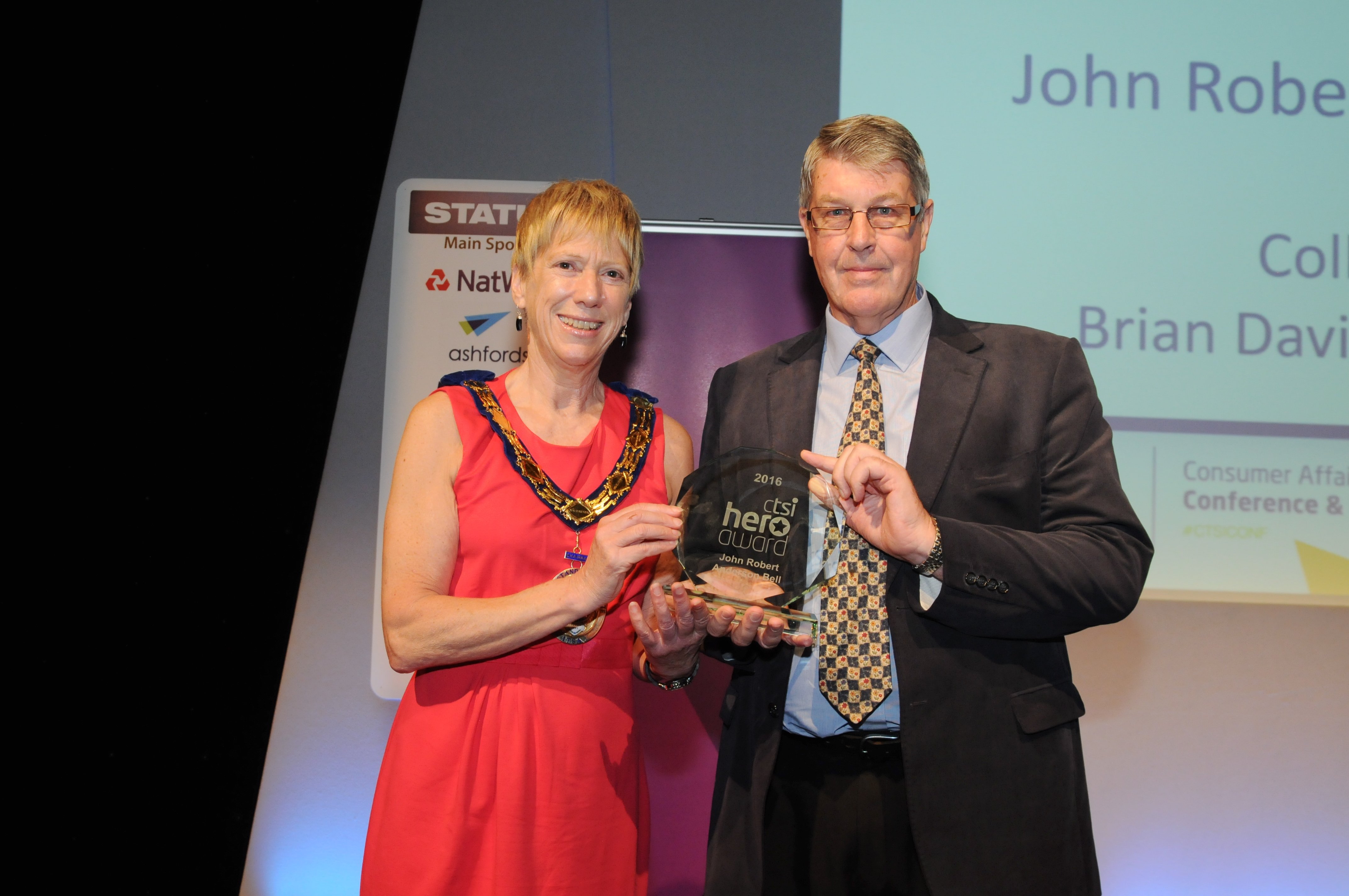 A pensioner who was tricked into signing over his £250,000 home to conmen posing as builders has been recognised for his bravery, after giving evidence in the case against the criminals.
John Bell was announced as a Hero award winner by the Chartered Trading Standards Institute (CTSI) at its annual conference in the West Midlands, recently.
The 78-year-old was a victim of a gang from the travelling community, some with convictions for violence, but while some victims were reluctant to come forward Mr Bell had the courage to give evidence.
Leon Livermore, CTSI chief executive, said: "These heartless criminals convinced Mr Bell that he needed major repairs and that the only way of paying for the work was to gift his house to them.
"Following a campaign of manipulation, Mr Bell was driven by one of the gang to a solicitor to sign his house over and then taken to a caravan where he was told to stay for 'insurance reasons'.
"It is believed that there were other victims but only Mr Bell was brave enough to take the stand and make sure it could not happen to anyone else."
Mr Bell came to the attention of Bromley trading standards, who nominated him for the award, after he was cold called by the gang at his South London home.
During a three-week trial Mr Bell's evidence led to the conviction of one defendant. The Judge has said he would not pass sentence until Mr Bell's house has been legally returned.
Brian Davies, the senior consumer protection inspector at Bromley trading standards, said: "Once Mr Bell became aware of the true situation he was in, his co-operation was invaluable.
"Mr Bell was able to persuasively articulate his evidence, in remarkable detail over a period of two days, including cross examination by a barrister. To his credit he kept his cool under pressure.
"He has also helped to warn others on the dangers of cold callers and it is fitting that his courage has been recognised by the trading standards profession."
Hero awards celebrate outstanding contributions to consumer protection by individuals or groups of people and are nominated by the trading standards community.
Mr Davies collected the award on behalf of Mr Bell during the conference's Consumer Day, which brings businesses, consumer organisations and the third sector together to discuss consumer issues.
Les Matheson, chief executive officer of personal and business banking, NatWest, which has sponsored Consumer Day, congratulated Mr Bell on his award.
He said: "Protecting customers from financial harm is a key priority for NatWest, and we welcome the efforts of these individuals in helping the fight against fraud and scams."
Nine Hero awards and three certificates of commendation were presented during this year's CTSI Consumer Affairs and Trading Standards Conference and Exhibition in Telford.
Mr Bell said: "I am very grateful to Bromley trading standards who worked very hard to prosecute the men involved in stealing my house.
"I hope my experience helps others to be aware of the dangers of dealing with people who unexpectedly call at the door."
ENDS
Notes for Editors:
Bromley trading standards became aware that members of the criminal gang that had targeted Mr Bell were also being investigated by Lincolnshire Police.
Pictured from left to right: Christine Heemskerk CTSI chair and Brian Davies from Bromley trading standards.
---