News
Poundworld guilty of selling faulty phone charger kits
Posted 06/12/16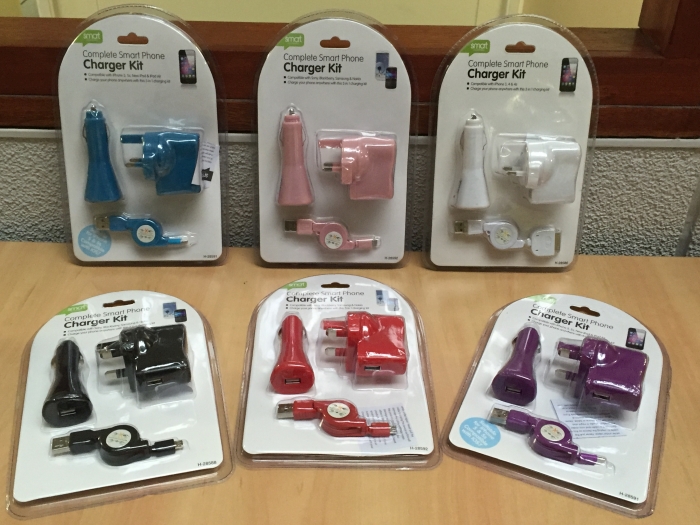 Giant discount retailer Poundworld has been prosecuted by Carmarthenshire County Council and ordered to pay more than £190,000 in fines and costs after selling thousands of faulty phone charger kits with forged safety test certificates to consumers in the UK.
In handing down a written sentence on Monday (December 5, 2016), Judge Richard Williams said Poundworld Retail Ltd failed to exercise due diligence in testing and certifying products it imported into the EU from China, and instead only paid 'lip service' to essential testing procedures.
More than 72,000 charger kits are known to have been sold by Poundworld at its Discount UK/Bargain Buys stores, but with no evidence to show how many it has successfully recalled, Judge Williams said it was reasonable to presume that a substantial number of them remain in use, presenting a significant material risk of fire or electric shock to consumers.
Customers who think they may have bought the kit are now urged to stop using it immediately and check with the store or with their local Trading Standards team regarding its safety.
Carmarthenshire County Council's Trading Standards team brought the prosecution against Poundworld following routine test purchasing exercises at its Llanelli store during March and April, 2015.
Several purchases were made of the 'Complete Smart Phone Charger Kit', with various batches of the product submitted for testing – all of which failed to comply with Electrical Equipment (Safety) Regulations 1994.
Specifically, the adaptor did not have adequate insulation between input and output circuits, and was not designed and manufactured to ensure protection against foreseeable hazards or overloads.
Internal connections relied upon solder alone to maintain their position, and loose wires gave risk of fire or electric shock.
The adaptor was also inadequately marked as per electrical safety regulations.
Following the test results, Carmarthenshire Trading Standards seized a further 189 charger kits, and colleagues in Swansea Trading Standards suspended a further 77 from their local store.
Poundworld was subsequently asked to issue a 'rapid alert', used to recall dangerous products across the EU, but it failed to do so. Instead, it posted recall notices in its stores – an act Judge Williams described as 'tardy', saying Poundworld had made little real effort to recall the kits or prevent their continued use.
He said Poundworld has done almost nothing to mitigate the risk of harm it has created, and that the little it has done had the 'appearance of being done grudgingly'.
In mitigation, Poundworld claimed it had undertaken due diligence by testing the products at an independent laboratory in China. However it was later revealed that the products had not been tested at all, and that the safety certificates provided by the laboratory were forged – Poundworld insisting that it had itself been the victim of fraud.
Also in its defence, Poundworld said it has returned 36,000 charger kits to the manufacturer, and whilst 72,636 kits had been sold, none remained on sale at its stores in the UK.
In his judgement, Judge Williams spoke of his surprise that a company of its size - with latest turnover figures of £426.6million and with 2,500 product lines - had not developed an established and robust testing regime in order to ensure regulatory compliance of its products, saying it was reasonable to infer that the company's desire to minimise costs informed this approach.
In summing up, he said the level of fines he imposed reflected 'aggravating features' in the way Poundworld handled the case. He did however reduce the level of fines to give credit for its early guilty plea.
Cllr Jim Jones, Carmarthenshire County Council's Executive Board member for Public Protection, said: "I wish to thank our Trading Standards officers and legal team who worked extremely hard to bring this case to a successful prosecution.
"We are pleased that Judge Williams has imposed a fine proportionate to the severity of Poundworld's culpability and the serious risk of harm to its customers.
"This case will have ramifications for discount retailers across the country - we're proud of our efforts to protect consumers not just in Carmarthenshire, but across the whole of the UK."
He added: "We would urge anyone who has bought a Complete Smart Phone Charger Kit from a Discount UK or Bargain Buys store to stop using it immediately and check with the store, or with their local Trading Standards team, to see whether it is part of the product recall." 
Note to editors: 
Carmarthenshire County Council V Poundworld Retail Ltd, was heard before Judge Richard Williams, District Judge (Magistrates' Court), with hearings at Llanelli Magistrates Court (July 14, 2016), Newport Magistrates Court (September 1, 2016) and Cwmbran Magistrates Court (November 17, 2016 and December 5, 2016). Judgement as approved by the court
Prosecution was represented by Mr Lee Reynolds of counsel, and the Defence by Mr Paul Duester of counsel
 The total amount of fines is £166,000
 A statutory charge of £120 was applied
Prosecution costs of £21,314.90 plus expert fees of £2,615 are to be paid by the Defendant
 The Defendant must pay the total of £190,049.90 in full by June 5, 2017
Laura J Morris
Uwch Swyddog Y Wasg | Senior Press Officer
Tîm Marchnata a'r Cyfryngau | Marketing and Media Team
Cyngor Sir Gâr | Carmarthenshire County Council
01267 224176 | LJMorris@sirgar.gov.uk| LJMorris@carmarthenshire.gov.uk 
Ymholiadau'r cyfryngau | Media enquiries - 01267 224900 | swyddfawasg@sirgar.gov.uk | pressoffice@carmarthenshire.gov.uk
---