News
Report highlights rise in illicit tobacco trade
Posted 13/09/16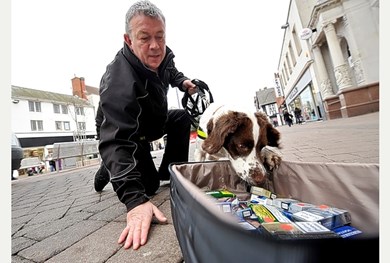 Illicit tobacco products worth almost £1m were seized during Operation Henry 2 (OH2) – 18 per cent higher than the first operation, carried out by trading standards in 2014.
OH2, developed and managed by the Chartered Trading Standards Institute (CTSI) on behalf of the Department of Health, was conducted across all nine English regions by 67 trading standards services. 
In total, 42 per cent of premises visited in the intelligence-led operation were found to be selling illicit tobacco products of which 57 per cent were repeat offenders.
Leon Livermore, chief executive of CTSI, said: "The illegal tobacco market makes it easier for children and young people to start smoking and get hooked. 
"With around two-thirds of smokers starting the habit as children, it is vital that we do everything we can to discourage them from developing a habit that places a huge burden on the NHS, while making no contribution towards it.
"Projects like OH2 allow trading standards to share information and develop intelligence to help get illegal tobacco off the streets but the findings have shown a high level of repeat offending.
"Local authorities must take appropriate enforcement action against individuals that disregard the law but it could be that the current sanctions and penalties available are not acting as a sufficient deterrent to criminals.
"In addition, courts might not be imposing the maximum penalties available to them or the range of sanctions are no longer fit for purpose. A further review of this is necessary to tackle the problem."
Together, trading standards officers confiscated around 2.9 million cigarettes and 1,272kg of illicit hand-rolling tobacco (HRT) from all regions of England – an additional 205,591 sticks and 547.22 kg of illicit hand rolling tobacco compared with Operation Henry 1.
The majority of seizures were of relatively small quantities, suggesting only a small amount of stock is maintained at retail premises, to reduce the risk of a significant loss of product during a search and seizure.
The largest single haul was made at a self-store facility in Derbyshire, where more than 1.3 million cheap white cigarettes, and 551.45kg of illicit HRT, was seized. 
The highest number of seizures was made in the West Midlands (21 out of 31 visits, or 68 per cent). The lowest seizure rate was in the South West (10 out of 48 visits, or 21 per cent).
During OH2, a number of other goods were seized, including: illicit alcohol and counterfeit Viagra, cannabis and cash. Immigration issues were also reported to the Border Agency.
Illicit tobacco products are estimated to leave the public purse around £2.1bn short per year.
ENDS
Notes for Editors:  
---