News
Scam victims praised for sharing their experiences
Posted 30/06/16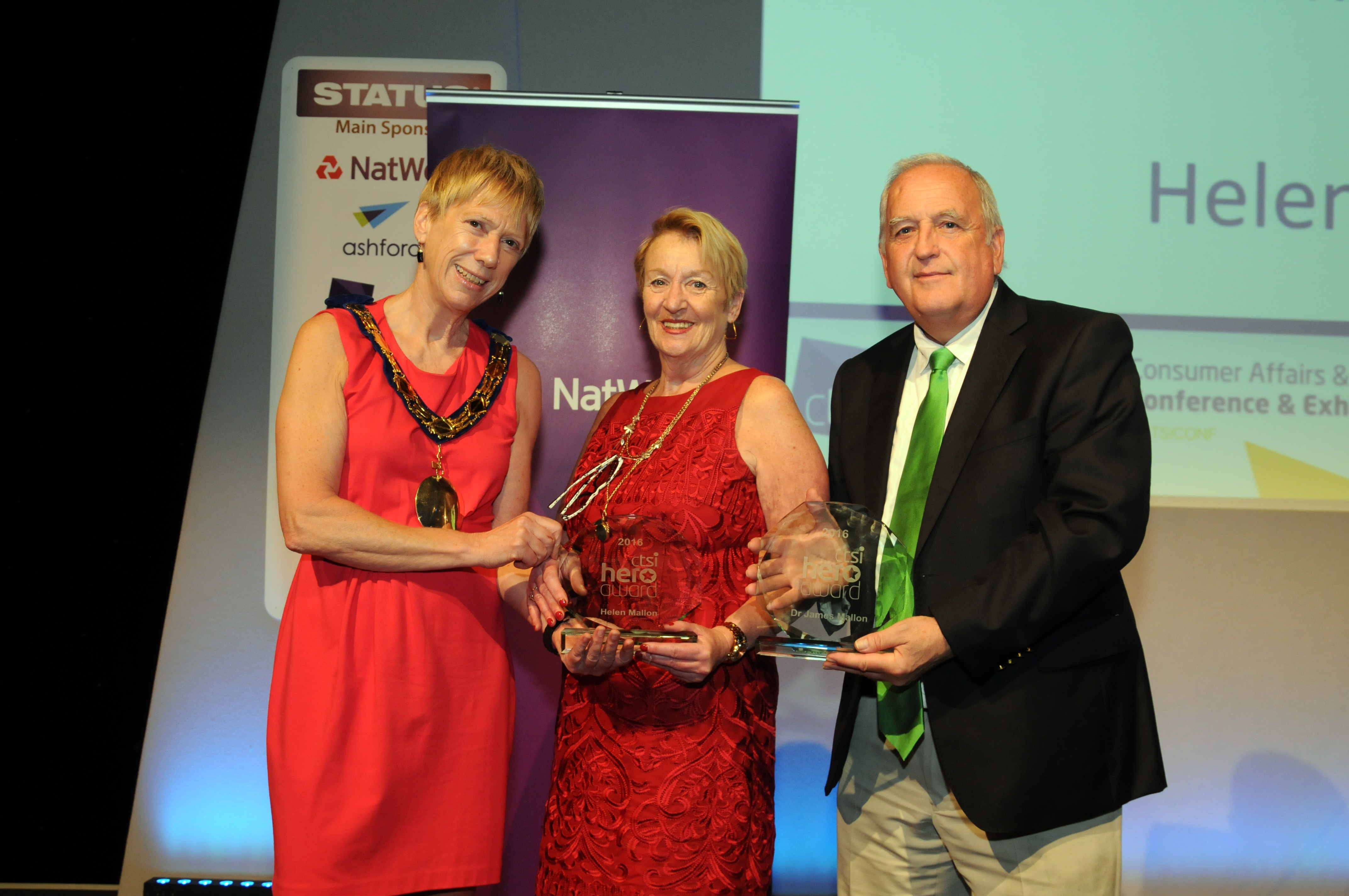 Two professionals who found themselves on a so-called suckers list and lost thousands in a scam have been praised for helping to warn others, by trading standards experts.
James Mallon, a GP, and Helen Mallon, a retired teacher, received a Hero award from the Chartered Trading Standards Institute (CTSI) at its annual conference in the West Midlands, recently.
The respected couple from Banbridge, County Down, Northern Ireland, had fallen victim to postal scams and Dr Mallon lost £25,000 to a telephone investment scam.
Despite this they still found the courage to tell their story and as a result several more people have come forward and reported that they too have been victims.
Leon Livermore, CTSI chief executive, said: "When we think about scam victims we often picture an elderly or vulnerable person, but it's important to remember that this is not always the case.
"Scams can be incredibly sophisticated and anyone can fall victim, as this case shows. However, it was out of concern for others that drove this incredibly brave couple to share their own experience of loss."
Dr Mallon and Mrs Mallon came to the attention of trading standards in Northern Ireland, who nominated them for the award, after suspecting they may be on a 'suckers' list.
The lists are compiled and shared by criminals and allow them to target individuals who might have responded to similar tactics in the past making them more vulnerable targets.
Beverly Burns, a consumer protection officer at Northern Ireland's Trading Standards Service, said: "James and Helen were prepared to put their heads above the parapet and admit they had been scammed, in public.
"This selfless and brave step was instrumental in helping us educate and inform others and make it clear that anyone can be the victim of a scam.
"Other scam victims have come forward as a result of James and Helen's story and for this reason I'm so pleased to see them receive this award."
Hero awards celebrate outstanding contributions to consumer protection by individuals or groups of people and are nominated by the trading standards community.
The award was presented during the conference's Consumer Day, which brings businesses, consumer organisations and the third sector together to discuss consumer issues.
Les Matheson, chief executive officer of personal and business banking, NatWest, which sponsored Consumer Day, congratulated the couple on their award.
He said: "Protecting customers from financial harm is a key priority for NatWest, and we welcome the efforts of these individuals in helping the fight against fraud and scams."
Nine Hero awards and three certificates of commendation were presented during this year's CTSI Consumer Affairs and Trading Standards Conference and Exhibition in Telford.
Mrs Mallon said: "I was conned after being told to pay to claim a bogus prize of £8,500 in a non-existent Spanish lottery scam.
"You don't want to tell anybody, you just keep it a secret for as long as you can and then you feel so distraught."
Dr Mallon said: "Once I realised I'd been scammed I felt embarrassed and silly. I was greedy too, I expected to get money for nothing.
"If by telling my story I have stopped others from falling into the hands of these despicable scammers, it will have been worth it."
"I hope our story has helped others and we are both really thankful for this award."
ENDS
Notes for Editors:
Pictured from left to right: Christine Heemskerk CTSI chair, Helen Mallon and Dr James Mallon.
---